Oh, yeah. Hockey.
It's almost hockey season. How do I know? Because we've had about a month of football. Let's crank up the baseball playoffs, more football, and hockey.
Yes, basketball, too.
Anyway, the annual
Grand Forks Herald
WCHA coaches poll came out Tuesday. The good ol' jinx didn't work last year, as the preseason poll picked Minnesota and Wisconsin to share the league title.
Well, it worked, but only for half of the pick. Wisconsin finished in the bottom half of the league table, and they needed a first-round upset of Denver to advance to the Final Five.
I've been quiet so far on the pucks. The league has again been hurt by offseason departures, but there is one team that was able to retain more top players than they lost, and that's the team the coaches have tabbed as a preseason favorite.
North Dakota lost Jonathan Toews and Brian Lee to the NHL, but they return a wealth of talent, and coach Dave Hakstol has supplemented it with another strong recruiting class, including Derrick Lapointe, who won't need long before he becomes a top defenseman.
The rest of the poll, if you're too lazy to click:
1 UND (7) 79
2 Minnesota (3) 74
3 Colorado Coll. 55
4 Denver 53
5 Wisconsin 52
6 St. Cloud St. 43
7 Michigan Tech 41
8 Minn.-Duluth 23
9 MSU-Mankato 19
10 Anchorage 11
A few thoughts:
Frankly, the middle of the league is a jumbled mess. There isn't much to separate Minnesota, CC, Denver, Wisconsin, St. Cloud State, and probably Michigan Tech.
Tech is a definite threat if they can find some scoring. Then again, the same could be said for Wisconsin and UMD.
I'm surprised by how easily Anchorage finished last in the poll. I think that program is a couple years away from being a legitimate threat, but there is no question to me that Dave Shyiak is doing a good job.
UMD needs to score goals, probably more than anyone else. They're going to play strong defense, they have talented goaltenders, and they have a bunch of kids who will go all-out and aren't afraid of anything. However, you're always making it hard on yourself when you're winning games 1-0 or 2-1. Unless some of the talented young forwards can get in a scoring rhythm, the Bulldogs are faced with a low margin for error on the other end of the ice.
Of the teams in the bottom half of the coaches' poll, I think UMD and Michigan Tech have the best chance to surprise and finish in the top five. St. Cloud State and Minnesota State will struggle too much defensively. Both UMD and Tech will be good there, but both need to find goals. Whichever one does will probably move up the ladder.
Of the teams in the top half, I think the Colorado teams are probably the strongest bets to fall a bit. They're both well-coached outfits, which will help, but Denver didn't play well down the stretch last year, and CC didn't exactly light the world on fire, either. Both have lost some key players, making it difficult to just assume they'll be safe for home ice.
Pulled from thin air, a crack at the top ten. This is subject to change:
1. North Dakota
2. Wisconsin
3. Minnesota
4. Colorado College
5. UMD
6. Denver
7. Michigan Tech
8. St. Cloud State
9. Alaska-Anchorage
10. Minnesota State
Hit me up in the comments or on e-mail with your thoughts. I'll do a better job of this in a couple weeks before the first faceoff that counts.
And, yes, I am even willing to entertain arguments that UMD won't be in the top five. Reluctantly, but I'll accept them.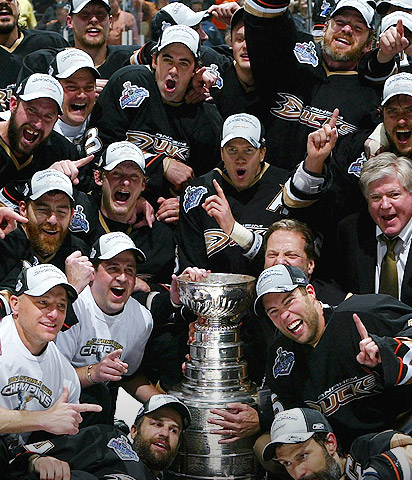 NHL set to open.
Picked up
The Hockey News
2007-2008 yearbook, which has some quality stuff in it. THN gutlessly picked Anaheim to win the Cup again, but I'm not sure they'll do that.
(The photo to your right has been etched in my memory since it was taken. Frankly, it still leaves a bad taste in my mouth, no matter how many times I tell myself that the best team won.)
Teams that make the Cup Finals have a history of falling off the next year, even if only a little bit. Anaheim has to replace Teemu Selanne on their top line, and I'm not sure Todd Bertuzzi is the answer.
Not only that, but it felt like we were in a parallel universe last year, one where guys like Scott Thornton, Brad May, Travis Moen, and George Parros were actually useful in the playoffs. That won't happen again, and Anaheim isn't so stacked with talent that they can't be beaten in a seven-game series.
The Wild are going to be good, but their inability to add any real toughness to this roster will doom them in April. It's actually going to be a surprise if it doesn't doom them before that, but they're lucky in that Colorado is still kind of rebuilding, Vancouver is caught with a relatively average team and a great goaltender, Edmonton looks to stink, and there is no knowing what to expect from Calgary under Mike Keenan.
The season opens Saturday in London, which is a pretty neat idea. Outside of the fact that the Kings' ownership group owns the O2 complex in London, I really don't know why they're doing this.
But regular-season hockey at noon Saturday and Sunday? Sign me up.
As for picks on the NHL, I don't have much to offer. But I'll take a shot.
EASTERN CONFERENCE

Division winners
1. Ottawa
2. New York Rangers
3. Tampa Bay
Playoff teams
4. Pittsburgh
5. Carolina
On the bubble
6. Buffalo
7. New Jersey
8. Washington
9. Atlanta
10. Philadelphia
Not this year
11. Toronto
12. Montreal
13. Florida
14. New York Islanders
15. Boston
WESTERN CONFERENCE
Division winners
1. Anaheim
2. Detroit
3. Minnesota
Playoff teams
4. Calgary
5. San Jose
On the bubble
6. Colorado
7. Los Angeles
8. Vancouver
9. St. Louis
10. Dallas
11. Nashville
Not this year
12. Chicago
13. Phoenix
14. Columbus
15. Edmonton