With two days to go before their 2007 opener against Washington State, here is a brief look at the Wisconsin Badgers, which I will start with a review of the 2006 season.
Record: 12-1 overall, 7-1 Big Ten (T-2nd)
Postseason: Beat Arkansas 17-14 in Capital One Bowl
The Badgers had an extremely successful first year under head coach Bret Bielema. Honestly, not a whole lot changed from the Barry Alvarez years, except that Wisconsin seemed to have more of a penchant for throwing the ball than in the past. Much of the credit went to QB John Stocco, who was marvelous in bringing along first year starters at wide receiver (Paul Hubbard and Luke Swan) and at tight end (Travis Beckum and Andy Crooks). Stocco played, for the most part, mistake-free football, and he had a keen understanding of coordinator Paul Chryst's offense. When he missed two games, Tyler Donovan filled in very well and led the team to two wins.
As usual, the power-running game was a key. Freshman RB P.J. Hill ran for over 1,500 yards despite being slowed by injuries in the second half of the season. Hill struggled in a few games, most notably against Michigan and Arkansas, and he wasn't nearly as effective in games where the offensive line had problems. Because of his size, Hill will never be the kind of shifty, playmaking back that some people like. Instead, he looks for a hole and runs straight-ahead. If given enough time to get his legs moving, he can be very hard to tackle. At receiver, the first-year guys were outstanding, with Hubbard and Swan both emerging as deep threats, Swan doubling as a guy who can serve as a possession receiver, and Beckum doing everything that was asked of him. Depth was lacking, but was never really tested.
All-American Joe Thomas led the way on the offensive line, earning himself top-five status in the NFL Draft. The other four starters struggled in pass-protection, sometimes leaving Stocco vulnerable to excessive physical contact. Notable in the group was the improvement of center Marcus Coleman, who got notably better as the season wore on. He'll be the only senior starter on the line this year.
Defensively, the Badgers were very good in pretty much all areas. The line did a very good job against the run, but maybe didn't generate enough pass rush. That void was filled by outside linebacker DeAndre Levy, who actually led the team with six sacks. CB Jack Ikegwuonu earned respect around college football because of his size and speed, and he lost any remaining anonymity when he ran down Arkansas star RB Darren McFadden to save a touchdown in the bowl game.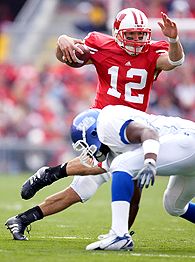 Entering 2007, the outlook is very good. Some might even say it's "rosy", though it may be too early to tell that for sure. The Badgers return 16 starters, including nine on offense, where only Stocco and Thomas were lost. Donovan takes over as the full-time starting QB, and he has all the targets back to throw to. That list is keyed by Beckum, who is getting recognition on a lot of preseason All-America lists. Hill returns, allegedly a bit slimmer but not having lost any of his power. If he can stay healthy, he could approach 2,000 yards running behind the horses Wisconsin has up front. Thomas is gone, but Coleman, guards Kraig Urbik and Andy Kemp, and right tackle Eric Vanden Heuvel return. Redshirt freshman Gabe Carimi surprised many by winning the job at Thomas' old LT position in fall camp. Listed at 292 pounds, he'll be the smallest of the Badgers' starting linemen, the rest of whom average close to 320 pounds.
On defense, starting end Joe Monty, MLB Mark Zalewski, and safeties Joe Stellmacher and Roderick Rogers have moved on. However, the core of the defense returns. DTs Nick Hayden and Jason Chapman are rock-solid, with both needing to flash a little more pass-rush ability. LE Matt Shaughnessy plays much bigger than his listed 242 pounds. The RE position has issues, as senior Jamal Cooper was suspended last week and then formally kicked off the team earlier this week. Senior Kurt Ware, a solid player who won't do much in terms of rushing the passer, appears set to start.
OLBs Levy and Jonathan Casillas return. Casillas is billed as the second-fastest player on the defense behind Ikegwuonu. He led the team in tackles for loss a year ago, and appears poised for a huge season. Elijah Hodge, younger brother of former Iowa star Abdul, takes over in the middle. Ikegwuonu and Allen Langford will hold down the starting CB spots, with freshman Aaron Henry expected to see time as the nickel back.
It's the safety positions that create the most questions for Wisconsin entering 2007. Sophomore Shane Carter (brother of Cris) and Aubrey Pleasant are the listed starters, but neither have started before, and they've combined for seven total tackles at UW. If teams are going to attack this defense early in the season, "deep middle" might be the best option for them.
The schedule favors a hot start. After Washington State this weekend, the Badgers travel to UNLV and host The Citadel before opening Big Ten play with back-to-back home games against Iowa and Michigan State. Trips to Illinois and Penn State after that could be problematic, but there is a good chance Wisconsin will be 9-0 when they travel to Columbus November 3. They follow that up by hosting Michigan and visiting Minnesota, two intense rivalry games.
Games against Washington State, UNLV, The Citadel, Michigan State, Northern Illinois, and Minnesota should be relatively easy wins. While Iowa, Illinois and Penn State will give Wisconsin trouble, those are all clearly winnable games.
This leaves those games against Ohio State and Michigan. Even though UW has won their last three in Columbus and beat Michigan the last time the two met in Madison, it's not reasonable to think they'll win both. I'll split the difference, and call for an 11-1, 7-1 season. That should be enough to get the Badgers into a BCS bowl game, perhaps the Rose Bowl if the Big Ten sends a team to the title game.