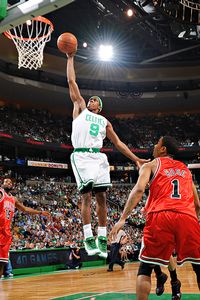 My feelings for the NBA are not well-hidden around here. In general, the Association has screwed up a ton the last ten years, and I don't watch nearly as much basketball as I used to.
A big part of the problem is that the NBA just can't produce enough compelling playoff basketball to keep me interested.
This year? Well, it's been a notable exception.
Derrick Rose went off in Game One. Ray Allen in Game Two. The Celtics then owned Game Three. Ben Gordon ruled Game Four. Then, with Ray Allen fouled out and Kevin Garnett still broken, the Celtics' other "big star" and its youngest, brightest star took over Tuesday night.
Paul Pierce hit the huge shots. Rajon Rondo set them up.
It was a magnificent display of up-and-down excitement that basketball needs more of. Quite fitting, actually, that it would come one night after that 121-63 disgrace. The irony of that? Well, the Celtics are the number-two seed and Chicago seventh in the East. Denver and New Orleans are - respectively - the
exact same seeds in the West
. Denver might not be 58 points better than New Orleans ever, ever again, but the Celtics and Bulls could play 100 times and not have a margin of victory bigger than 25.
For all the talk about how the Western Conference is superior, it's incredibly top-heavy, and I'm not so sure it's superior. Outside of Denver, Utah, and the top-seeded Lakers, I'm not sure I'd take any Western team to beat their Eastern counterpart in a best-of-seven series. I'd certainly think twice about locking on teams like Houston and San Antonio against teams like Miami and Philadelphia.
As for Chicago and Boston, it's been everything you could ask for in an NBA playoff series. Except boring, which too many series around the league have been in recent years.
Also, big ups to Dallas, who won twice in San Antonio, broke a three-year road playoff drought, and took out the undermanned Spurs in five games.