Welcome to The Ciskie Blog's 2008 College Football Preview. As usual, you can expect a rundown of every Division I-A (or "Football Bowl Subdivision", if you prefer) conference, as well as a brief look at the independents. Some of the information used to compile these previews came from various football preview publications that I took the time to review this summer. I give a full endorsement to Phil Steele's College Football Preview (the national edition, as well as his various regional magazines). I also have looked at Sporting News, Athlon Sports, and Blue Ribbon (via ESPN Insider). Information was also gathered from local newspapers and school websites. Please use the comments section or e-mail for feedback, questions, and any corrections you feel need to be noted.
1. Notre Dame
2. Navy
3. Western Kentucky
4. Army
TOP FOUR STORYLINES AMONG INDEPENDENTS
Weis leads a turnaround.
It wasn't meant to be easy for Charlie Weis (pictured yelling), but he should see some rewards from last year as soon as, well, right now. The Irish went 3-9 a year ago. They lost eight of those nine games by double-digits, including home losses of 33-3, 31-14, 38-0, and 41-24. Weis smartly went with true freshman Jimmy Clausen at QB for nine starts. While the highly-touted Clausen did virtually nothing for most of the season, the experience he got should help him be a much better player this year. It'll also help that the offensive line is likely to yield fewer than 58 sacks this year, and the Irish are likely to gain more than 75 rushing yards per game. Look out for junior RB James Aldridge, who can't possibly be held out of the end zone again this year. Notre Dame was fairly competitive on defense for most of the season, especially when you consider how much time they spent on the field. New coordinator Jon Tenuta has some quality talent to work with this year.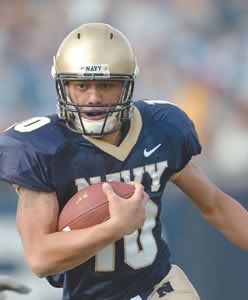 Navy's coaching change.
With Paul Johnson gone for Georgia Tech, Navy grabbed one of his offensive assistants. Ken Niumatalolo is the first Polynesian coach in Division I-A, and the former Navy offensive assistant plans to keep the option offense intact. The Midshipmen are lucky to return starting QB Kaipo-Noa Kaheaku-Enhada (right) for a third season at the helm. He accounted for over 1,700 yards of total offense and 20 touchdowns, but is recovering from offseason knee surgery and didn't do much in the spring. Shouldn't be a problem for the experienced starter. Of more concern is the work Niumatalolo has to do on the offensive line. Three starters are gone, and the Midshipmen are - as usual - badly undersized at the position. A bright spot on a defense that was terrible against the pass last year (opponents completed almost 70 percent of passes) is that all four starters return in the secondary, and there is plenty of experienced depth after an injury-riddled season.
Western Kentucky continues the transition.
The Hilltoppers were a perennial power in Division I-AA, winning national titles in 2000 and 2002. Western Kentucky moved up to I-A beginning last year, and they will join the Sun Belt officially next year. WKU plays five games against Sun Belt teams this year, but they won't count in the league standings. This is a program that will probably take a step back this year, as they have stepped up the schedule from what they had a year ago, and they will miss four of their top six tacklers on defense. With trips to Indiana and Alabama in the season's first three weeks, coach and former WKU defensive coordinator David Elson can't waste much time building that defense back up. Elson gets his starting skill players back on offense. QB David Wolke, RB Tyrell Hayden (pictured), and WR Jake Gaebler should all improve their 2007 numbers.
Army returns to tradition.
Coach Stan Brock closed down spring practice. No fans. No media. Why? Because it was time to overhaul the stagnant Black Knight offense. The old tradition of the option is back. It's a good thing for Army, as they have a ton of talented running backs, and now they have an offense that will utilize the depth at the position. Word is that freshman Paul McIntosh may have the upper hand on the QB job, beating out experienced junior Carson Williams (right), who worked in Army's pro-set offense a year ago. Small senior Carlo Sandiego may also have a shot at the job. Army averaged just 88 yards per game on the ground last year. Don't be surprised if that number comes close to tripling this year. Having Temple, New Hampshire, and Akron all at home to start the season will ease the transition. Army has worked hard to soften the schedule since their days in Conference USA. Texas A&M and Rutgers are the only teams from BCS conferences on this year's slate.
PRESEASON AWARDS AND NOTABLESOffensive Player of the Year:
Kaipo-Noa Kaheaku-Enhada, QB, Navy
Defensive Player of the Year:
David Bruton, S, Notre Dame
Coach of the Year:
Charlie Weis, Notre Dame
Coach on the Hot Seat:
Charlie Weis, Notre Dame
Best Non-Conference Game:
Notre Dame at USC, November 29
Worst Non-Conference Game:
Towson at Navy, August 30