Welcome to The Ciskie Blog's 2008 College Football Preview. As usual, you can expect a rundown of every Division I-A (or "Football Bowl Subdivision", if you prefer) conference, as well as a brief look at the independents. Some of the information used to compile these previews came from various football preview publications that I took the time to review this summer. I give a full endorsement to Phil Steele's College Football Preview (the national edition, as well as his various regional magazines). I also have looked at Sporting News, Athlon Sports, and Blue Ribbon (via ESPN Insider). Information was also gathered from local newspapers and school websites. Please use the comments section or e-mail for feedback, questions, and any corrections you feel need to be noted.
NORTH DIVISION
1. Missouri
2. Kansas
3. Nebraska
4. Colorado
5. Kansas State
6. Iowa State
SOUTH DIVISION
1. Oklahoma
2. Texas Tech
3. Texas
4. Oklahoma State
5. Texas A&M
6. Baylor
TOP FIVE STORYLINES IN BIG 12More struggles at Baylor.
Every school in the Big 12 has been to at least three bowl games since the calendar flipped to the year 2000. Well, every school except one has. Baylor has not seen the college football postseason since 1994. They've not won a bowl game since 1992. Guy Morriss was allowed five years to try to turn things around after being hired away from Kentucky, where he nursed the program through the worst of the
Hal Mumme fallout
. At Baylor, Morriss never won more than five games in a season, and he won just 18 games total. Even at a place that has become known as the Big 12's weakest sister, this isn't going to be accepted forever. Now, accomplished coach Art Briles takes over. He brings his funky spread-style offense from Houston, where he posted a so-so 34-28 record, but did guide the Cougars to four bowl bids in five years. Surely, Briles will be allowed more than a couple years at BU, and if he gets the resources he needs, the Bears should begin to improve as quickly as this year.
Is Kansas a flash in the pan?
Last year's version of the Jayhawks did everything you could ask them to do, outside of beating Missouri. They rung up some serious point totals, including that 76-point outburst against Nebraska. Their defense was great throughout most of the year, holding opponents under 100 rush yards per game and keeping four teams from reaching double figures in points. They shocked many (evidently, we all thought KU would have "Just happy to be there" syndrome) by beating Virginia Tech in the Orange Bowl. So, can Mark Mangino engineer another magical season? They probably won't be 12-1 again, but they should be very good. Todd Reesing is back to run the offense at peak efficiency. RB Brandon McAnderson has to be replaced, but KU returns three starting linemen and two top receivers. The defense should be among the Big 12's best again. Nine starters are back, including the top four tacklers. Mangino's team has no fewer than six seniors starting on defense, and if Kendrick Harper can step up his game in departed CB Aqib Talib's spot, the Jayhawks won't miss a beat. 12-1 looks out of reach, but the Jayhawks only play four true road games all season long, and they bear watching once again.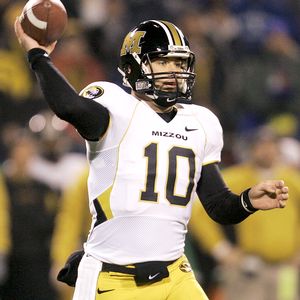 Chase-ing the H*i*m*n.
Chase Daniel (right) returns to lead North Division champion Missouri's attack. He loses top receiver Martin Rucker and leading rusher Tony Temple, but freshman All-American Jeremy Maclin is back to catch passes and return kicks, and safety blanket Chase Coffman returns. Daniel threw for over 4,300 yards and 33 scores last year. He topped 300 yards in nine of 14 games. The Tigers might not win another division title, but they're favored, and the senior QB is a big reason why. Daniel is pretty much everyone's pick for the league's Offensive Player of the Year in the preseason. With Maclin, Coffman, and Tommy Saunders all back to catch the ball, and with a loaded offensive line, Daniel will put up some serious numbers again this year.
Oklahoma's defense looks to rebound.
The Sooners were flat-out embarrassed in their Fiesta Bowl loss to West Virginia. Before that fateful night in Glendale, the OU run defense hadn't once yielded 200 yards to an opponent. Only Oklahoma State's 195 even came close, and that was in a 49-17 OU win. West Virginia ran for 349 yards and averaged 8.9 yards per carry in a 48-28 romp. The 349 yards exceeded the total Oklahoma allowed in their first five games (338). It was an awful way to end a superb season. The Sooners lose six starters from that defense, but they get back three starters on the line, while stud SS Nic Harris anchors the secondary. If Bob Stoops can find a replacement for departed feature back Allen Patrick, the offense won't miss a beat after averaging 42 points per game in 2007. Instead, the ultimate fate of this season rests on the defense. Can they rebound and play like a confident unit after the thrashing they got from WVU?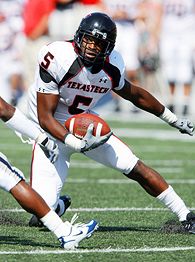 This is Texas Tech's time.
For Mike Leach, it probably doesn't get any simpler than this season. He has a senior QB in Graham Harrell who is set to obliterate any remaining school passing records (he's less than 2,000 yards from Kliff Kingsbury's career mark, meaning he may set that before the Big 12 opener October 4). He has three solid dual-threat RBs to choose from, including sophomores Aaron Crawford and Baron Batch. WR Michael Crabtree (right) won the Biletnikoff Award as a freshman last year, catching 134 passes and falling 38 yards short of 2,000 for the season. Oh, and Leach's defense returns eight starters. The schedule shows tough road games against Kansas and Oklahoma, but the other really tough Big 12 games are in Lubbock, including Nebraska and Texas. If they're ever going to climb the mountain, it's going to be this season. The best part? No matter the record, there isn't a more entertaining team in all of college football.
BEST OF THE REST
Nebraska
brings back Bo Pelini, this time for a longer head-coaching stint (he coached the team in the Alamo Bowl the year Frank Solich got fired). His first task is to rebuild the image of the Blackshirts defense, which gave up a rather ghastly 37 points and 477 yards per game last year. 80,000 people paid to watch the spring game, so you know they're excited in Lincoln. The coach's son looks to improve on a solid freshman season in Boulder. Cody Hawkins (right), son of Dan, leads the
Colorado
offense, which improved by leaps and bounds - and by nearly 100 yards per game - over a dismal 2006. Cody threw 17 picks in 13 starts, however, and that can't happen again. The Buffaloes upset Oklahoma a year ago, and with West Virginia, Florida State, Texas, and Oklahoma State all visiting Boulder this season, they may need to pull another upset or two to reach a bowl game for the second straight year. You think Ron Prince senses trouble at
Kansas State
? He brought in 19 JUCO kids in this year's class, hoping to supplement a roster that returns only 12 starters from a disappointing 2007. The Wildcats fell off badly, losing their last four games by a total of 86 points. The offense has to find a way to replace leading receiver Jordy Nelson and leading rusher James Johnson. Good luck. If anything positive can be taken out of the debut season for Gene Chizik at
Iowa State
, it's that they played some good football towards the end of the season. The Cyclones beat bowl-bound Colorado and also dealt a crippling blow to Kansas State's postseason hopes. Chizik gets 14 starters back and should field an improved team capable of winning four or five games.
Texas
lost an uncharacteristic three Big 12 games last year, but recovered to blow out Arizona State in the Holiday Bowl. The defense fell off terribly from when Chizik led the way, and now they have to replace seven starters this year. A favorable early-season schedule should get the Longhorns off to a fast start, but they don't appear to be strong enough to contend in the South. Mike Gundy made headlines for his anti-media rant last year, but the
Oklahoma State
coach made the right move in starting Zac Robinson ahead of Bobby Reid. The Cowboys are a secondary away from being a sleeper in the South, as Robinson will continue to lead the offense to serious numbers. Former Packers coach Mike Sherman takes over at
Texas A&M
. While I was
no fan
of his work in Green Bay, I think he will be fine in the college game. The problem will be trying to sort through the mess Dennis Franchione left him. While Sherman's smarts and play-calling acumen should serve him well with the offense, I'm not sure how the hell they're going to field a defense that doesn't get destroyed.
PRESEASON AWARDS AND NOTABLESOffensive Player of the Year:
Chase Daniel, QB, Missouri
Defensive Player of the Year:
William Moore, S, Missouri
Coach of the Year:
Mike Leach, Texas Tech
Coach on the Hot Seat:
Ron Prince, Kansas State
Best Non-Conference Game:
Illinois vs Missouri at St. Louis, August 30
Worst Non-Conference Game:
SE Missouri at Missouri, September 6