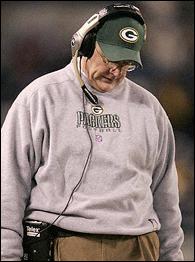 Longtime readers of this blog know how much a fan I have not been of
Mike
Sherman
.
His reign in Green Bay got off to a promising start, but between Michael Vick, Fourth and 26, Randy Moss, Mike McKenzie, and Javon Walker, there wasn't much that Sherman handled well, either as a coach or a general manager.
I believe we're quickly learning that Sherman also didn't handle the quarterback position very well. Brett Favre should have been in the prime of his career during Sherman's tenure. Instead, his numbers largely plateaued before the big-time regression in 2005 (29 picks and mostly bad decision-making).
What's happened since Mike McCarthy took over? A supposedly aging Favre posted the highest completion percentage and highest average yards per attempt of his career in 2007, while posting his lowest interception percentage since 2000.
Amazing what you can coax out of a guy like Favre when you actually coach him, right?
With that in mind, I've long before come to the conclusion that Sherman didn't bother to coach Favre. We go back to 2005 for this:
You have failed, miserably, to rein in Brett Favre.

I know his reputation is that of the "old gunslinger". But Favre is at his best when his coaches are keeping him somewhat under control. The Packers are losing right now, in large part, because Favre has made a bad habit out of throwing uncatchable deep balls that get intercepted. He's back to 1993 form, where he constantly made bad decisions and was often bailed out by butter-fingered defensive backs. It's something he can work himself out of, but he won't do it under this coaching staff. This coaching staff has made it clear that they're not going to try to get Favre under more control. At least, they haven't yet. And it's Week 16. You'd think they would have done it by now.
So, yeah. McCarthy did something that Sherman was either unable or unwilling to do. It's a big part of why Sherman lost his job after this miserable 2005 season, but how much of a role does it play now?
If you believe what I'm saying, that Sherman didn't do his job, could Favre simply be tired of coaching? Is it possible that Brett is done with McCarthy getting in his grill whenever he throws a pick in practice? Did last year take so much out of Favre that he refuses to prepare and study that hard again?
One obvious response that debunks this theory is "Think about where he wants to go". While I don't think a ton of Brad Childress as a head coach just yet, one thing I don't think he's going to do is let Favre play the "WTF? Chuck it deep" offense Sherman had him running in 2005. It doesn't fit the Vikings' personnel or Childress' personality. Same goes for Jon Gruden and Tampa Bay. Gruden would stare a hole right through Favre if he threw picks like the ones he threw in 2005.
So while there might not be much going on here, I still do believe that Sherman's lax style, which runs in direct contrast to what McCarthy and general manager Ted Thompson have been known for, had a terribly negative influence on Favre. And Favre's comfort in that style has led to much angst with Thompson.
And remember one more thing. When the reports of Favre's return began to surface, I was the first one to tell you that
Aaron Rodgers was the Packers' starter
. You probably thought I was nuts.
Then again, so did I. Sometimes, you get lucky.