(Before I begin, a few things to note. You'll read some information in these previews that was blatantly stolen from the Pro Football Prospectus book, an extremely enjoyable publication released by the brains behind
Football Outsiders
. I want to give my props to Aaron Schatz and all his experts for their hard work. While I don't yet comprehend everything in the book, there are some great points both about teams and individual players. It's all helped me increase my understanding of football, and the Prospectus will be an annual purchase for me as long as it's in publication.)
We now continue our series of
NFL previews
with a look at the AFC West. The 2006 season saw San Diego run away with the division, Oakland embarrass themselves, and the 2005 AFC runner-up flounder behind a struggling quarterback.
1. Denver Broncos
Last year:
9-7 (3-3 vs. AFC West)
Playoffs:
None
That sure was a confusing 2006 for Denver. The defense came out flying. Granted, the games weren't all against the top offenses in the NFL, but the Broncos allowed 6, 7, 3, 3, and 7 points over five straight wins. After a promising 7-2 start, the Broncos lost two straight, which led to coach Mike Shanahan pulling the plug on Jake Plummer and inserting rookie Jay Cutler as the starting QB. Cutler struggled early on, but showed his great arm and an increased grasp of the offense as the season wore down. Unfortunately for Cutler, he couldn't lead the Broncos to a win in their season finale, and as a result, Denver missed the playoffs.
KEY QUESTIONS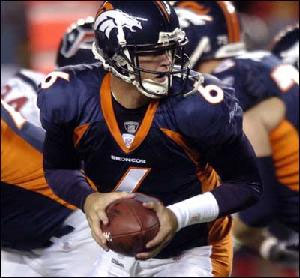 1. Can Cutler lead the Broncos back to the playoffs? With or without Travis Henry on board, we know the running game will be good. Having Henry only increases Denver's chances of success, because he's already established himself as a top back. Denver is hoping for a big year from big-play WR Javon Walker, who started quick but finished slowly, failing to post a 100-yard game and scoring just twice in the last seven games (Denver was 2-5). The team signed former Colt Brandon Stokley, and they really like emerging youngster Brandon Marshall. The Broncos also picked up TE Daniel Graham in free agency, giving Cutler another proven target. The pieces are in place, and Cutler played well for the most part in his rookie audition. This offense should have a very good season.
2. Is the defense built to win? Getting DE Simeon Rice signed this week is huge for Denver. The Broncos have an impressive stable of pass rushers with Rice, Elvis Dumervil, and first-round pick Jarvis Moss all in the fold. John Engelberger also returns, and he brings some size to the DE rotation. DT Sam Adams will be the key cog in the middle of the line. With Dre Bly now starting opposite All-World CB Champ Bailey, the Broncos have one of the best cover tandems in the NFL, and with Adams in the middle of the line, it's going to be increasingly tough to block the Broncos' mobile linebackers.
3. Can Denver survive a tough schedule? Whoever makes the league slate didn't do Mike Shanahan any favors. Besides a division schedule that includes two games against both San Diego and Kansas City, the Broncos have road games against Indianapolis and Chicago, a late-season stretch of six road games in eight weeks, and home games against Jacksonville, Pittsburgh, Green Bay, and Tennessee. Of this group, you know the Chargers, Colts, and Bears will be good. The Jaguars, Steelers, and Packers all figure to be better than their 8-8 records from last year. Cutler won't have it easy in his first full season as a starter.
2. San Diego Chargers
Last year:
14-2 (5-1 vs. AFC West)
Playoffs:
Lost to New England in AFC Divisional Playoff
Not many teams that win 14 games have to deal with a coaching change. Usually, when it does happen, the coach has left on his own, either to take some time away or just retire. In the Chargers' case, they fired a coach who had just won 14 games. Marty Schottenheimer was a rather controversial presence in San Diego. He caused much strife with the fans with some of his in-game decisions in that loss to the Patriots, but before that, he had clashed repeatedly with GM A.J. Smith, a problem that owner Dean Spanos cited in deciding to remove Schottenheimer after the season ended. His replacement? Well, Norv Turner's presence is also an issue. He may get along with Smith, but can he coach?
KEY QUESTIONS
1. So, can he coach? PFP says "No". Actually, it's pretty emphatic. PFP goes so far as to label Turner "the ninth-worst head coach of all time at holding fourth-quarter leads of any size". They cite the numbers, which show Turner's teams have been worse than average at holding leads of a single score late in games. This team should be easier for Turner to handle, being that they are coming off a 14-2 season and carry a ten-game regular-season winning streak into their opener on Sunday. Turner better win quickly with this group, as I'm guessing patience won't run too high in San Diego.
2. How well will Stephen Cooper and Matt Wilhelm hold down the MLB spots? The Chargers' 3-4 defense is very strong. The only potential weakness is over the middle, where veterans Randall Godfrey and Donnie Edwards are gone. Cooper and Wilhelm were part-time players last year, and neither were terribly impressive. They're undersized and quick, which might help, because the state of things on the Chargers' defensive front means they probably won't have to face too many offensive linemen running after them. With Ted Cottrell now coordinating the defense, don't expect to see much dropoff in their overall numbers.
3. Antonio Gates is really good, but who's going to step up at WR? Veteran Keenan McCardell was a flop, so he's gone. Starters Vincent Jackson and Malcolm Floyd combined for 42 catches and six scores last year. If Philip Rivers is to continue to improve, he is going to need people besides Gates and superstar RB LaDainian Tomlinson to throw to. Tomlinson's numbers are sure to drop a bit, even if it's not because of increased contributions from backup Michael Turner. It's just the law of averages, really. 31 touchdowns can be hard to top.
3. Kansas City Chiefs
Last year:
9-7 (4-2 vs. AFC West)
Playoffs:
Lost to Indianapolis in AFC Wild Card
As much as I've quoted
Pro Football Prospectus
in these previews, nothing I saw surprised me more than the projections for the 2007 Chiefs. PFP has their mean projection at 5.2 wins, meaning the Chiefs will be closer to the top pick in the draft than they'll be to the playoffs. It's the lowest "mean projection" in the AFC West (Oakland is at 6.5!!). It's actually a reasonable argument, considering the poor play we saw from their defense for much of last year, along with the one-dimensional nature of the offense.
KEY QUESTIONS
1. Can Larry Johnson do it again? PFP and others say he can't. Johnson carried the rock 416 times last year. Much statistical research has shown either a decline or an injury follows a season like that. Herm Edwards would be smart to use Michael Bennett more, but Bennett doesn't fit the power-running style Edwards prefers. Bennett is a fast guy who could provide a nice change-of-pace for 7-12 carries a game, much more than the 2.25 he averaged last year. No matter how Edwards decides to use him, odds are that Johnson won't be as good, and as a result, the offense will falter.
2. Why not sign Byron Leftwich? Outside of pure stubbornness, the Chiefs really have no reason not to take a serious look at Leftwich. Edwards wants to believe in Brodie Croyle as the QB of the future, but he's shown nothing so far. Damon Huard is the starter for now, but he's been a career backup for a reason. With this stable of receivers, there might not be more than a couple active QBs who can make something of this passing game, but I really can't see the harm in giving Leftwich a shot.
3. Can the Chiefs cobble together a defense? The hope is that free-agent MLB Napoleon Harris can be as good here as he was in Minnesota. Unfortunately for Harris, he won't have Pat and Kevin Williams in front of him in Kansas City. Having Ron Edwards and Alfonso Boone at DT won't be the same. Donnie Edwards is back at OLB in place of the ineffective Kendrell Bell. The secondary is a mess. Ty Law and Patrick Surtain aren't getting any younger, Lenny Walls is gone, and there are questions at both safety spots. Unless Edwards can get the defense playing at a high level again, the Chiefs are going to have a huge struggle on their hands.
4. Oakland Raiders
Last year:
2-14 (0-6 vs. AFC West)
Playoffs:
None
After a season void of anything positive, the Raiders are starting over. The new head coach is younger than the starting left defensive tackle. The new QB coach is younger than the presumptive starting QB (maybe not Week One, but eventually). The team ranked last in basically any offensive metric imaginable, put constant strain on a pretty good defense, and committed too many turnovers. Oh, and the offensive line allowed 72 sacks. Ouch. Prospects aren't all that great this season, as Oakland is unlikely to be a serious playoff contender, and will be fortunate to avoid last place in the division.
KEY QUESTIONS
1. When does Daunte Culpepper take over? Reports are that Culpepper will be named the Week One starter today, but nothing is official. Keep in mind that Culpepper was signed late in training camp and didn't a lot enough time with the offense. Oh, and that "knee injury leading to apparent lack of mobility" thing, too. Josh McCown had all the minicamp time and OTA time behind top draft pick JaMarcus Russell, who might want to consider that paltry $30 million-plus the Raiders are apparently offering. I have a feeling that Culpepper, whose behavior could be categorized as "strange" ever since that Love Boat thing in Minnesota, is going to make the Raiders forget that they drafted a QB first overall. Maybe I'm wrong, but I have a suspicion he'll play well, in the second year off his reconstructive knee surgery.
2. Whether it's McCown or Culpepper, will the line be better? It can't be worse. Even David Carr was laughing at the Raiders' QBs last year. The Raiders go to the zone-blocking scheme this year, which probably means their defensive players will have to stop whining about Denver's cut blocks. On the surface, they must be feeling better about things, because Oakland only drafted one lineman this spring. It probably means Robert Gallery and Barry Sims will start at tackle. Unless both are significantly improved, that's not good for whoever the QB is.
3. Will this defense hold up? They're not getting any younger on the line, where a slimmed-down Warren Sapp is the anchor. They figure to get their run-stopping prowess from their linebackers, as the line seems better-suited for going after QBs. The Raiders have drafted some nice LBs recently, including current starters Sam Williams, Kirk Morrison, and Thomas Howard. The well-traveled Robert Thomas provides depth on the outside. The secondary is solid and not a major concern, though some more big plays would be nice. If the offense can figure out a way to stay on the field more, the defense should be solid again (Oakland was 29th in the NFL last year in time of possession).