So when is it okay to talk about the playoffs?
It's been a while, so I need help with this. I know the stat - 76% of 3-0 teams go on to make the playoffs. But that's not good enough for me. I need a better answer. Is 4-0 the right time? 3-0? 5-0? 8-2? Should I wait until they actually qualify for the playoffs? I need help from a Patriots or Colts fan on this.
No matter the answer, the Green Bay Packers are indeed 3-0. It's a beautiful thing, really. The Packers didn't give a virtuoso performance in Week One, but won anyway. They were much sharper in Week Two, but beat up on a Giants team that hadn't looked very good so far. The true test would be this third game, the third straight against a 2006 playoff team. The San Diego Chargers have some great personnel along their defensive front seven. They have one of the league's best players in RB LaDainian Tomlinson. They have an emerging star in QB Philip Rivers, who gets to throw to one of football's top tight ends, Antonio Gates.
The Chargers, surely, would show that the Packers' 2-0 start was no fluke, or that it was.
Well, it's no fluke. This Packers team has the chance to be very good. Frankly, it doesn't look like the rest of the NFC North is equipped to stop them.
The Bears have a quarterback problem.
(I'd call it a "controversy", but for that to happen, there would need to be a viable NFL starter waiting for a shot. I'm not convinced Brian Griese qualifies here. Not only that, but the Bears
continue to insist
that Rex is their guy. You'll have to ask them why.)
The Lions have, well, a secondary problem. Just ask Kevin Curtis and Donovan McNabb.
And the Vikings, well...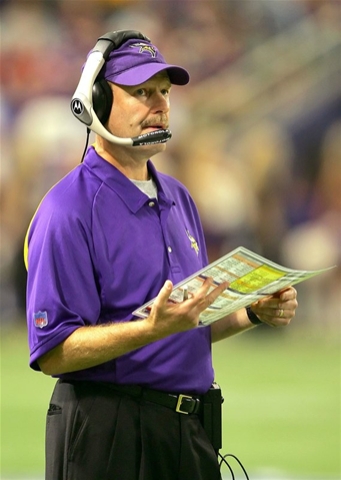 Brad Childress: Idiot.
I tried to defend him to some of my friends who bleed purple after last year's offensive debacle. Even though Childress clearly had a bad year, I insisted that they give the guy another year to build up the personnel and install his system.
How does he repay me? He hands the QB job to a clearly not-ready Tarvaris Jackson, ignores needs at wide receiver, does nothing to build up a shoddy secondary, and then shows that he is incapable of using Adrian Peterson properly.
The Vikings led 10-0 at Kansas City before the Chiefs rattled off 13 straight points over a short span of like 40 minutes between the second and fourth quarters. Childress then proceeded to make two interesting decisions. First, he elected to punt with 2:18 left, even though the Vikings had the ball at their own 40 and only needed seven yards on fourth down.
Then, after the Vikings made a quick defensive stop and got the "offense" the ball back at the 20, with 1:39 left, Childress left his
best freaking player
on the sideline
for the entire final possession. Yes, Adrian Peterson, who had 150 of the Vikings' 252 total yards on this day, touched the football as much as I did when the game was on the line.
Why?
Because Childress
didn't want to expose
the rookie in pass protection.
Seriously.
Stop laughing. That was the reason he gave.
An NFL head coach just admitted that he isn't creative enough to devise a way to use a potential star while masking a potential deficiency in his game. Thank goodness Childress was never Brett Favre's head coach. Probably would have benched him after one of those runs of interceptions that Favre has been prone to over the years, figuring that the guy was too mistake-prone and he couldn't afford to risk all those turnovers for the shot at a big play or two.
I couldn't be happier that the Vikings hired him. He would have gotten Favre killed in Green Bay last year, because he never would have thought to keep fullbacks and tight ends in to block on obvious passing plays against blitzing teams. Luckily, Mike McCarthy can think outside of the box a little bit.
More stupidity from baseball.
This note is not related to bad or overzealous umpires, though we appear to have had two strikes from them in games Sunday. Padre Milton Bradley got into it with an umpire, and Brewer manager Ned Yost was so steamed after another tough loss in Atlanta that he called the umpiring a "joke". Both will be sanctioned, but neither were totally in the wrong. I'm not about to justify childish behavior, but it appears that
Bradley was likely provoked by the umpire
, while Yost was
right to argue
two heinously bad calls that went against his team during a late-inning Braves comeback. Not only were the calls so bad that they appeared to be intentional (you don't want to believe that a highly-paid baseball official could possibly be
that
incompetent), but one of the umpires could be seen smirking at Yost as he came out to argue.
You may remember a urination contest baseball had with ESPN around the All-Star break over ESPN's decision to air All-Star Game selections before TBS' selection special was off the air, thus breaking something called an "embargo". Baseball kept ESPN from having any in-stadium broadcast access for the game, outside of their work with the Home Run Derby. No special "Baseball Tonight" set, and no special access for their people.
Well, it appears that the two are feuding again. This time, it's over ESPN's decision not to run promotional announcements for playoff broadcasts on TBS and FOX. As
FanHouse
notes, ESPN isn't airing baseball playoff games this year, and they appear unwilling to promote competitors.
Sports Business Journal
notes that ESPN has a policy against running such promos for the competition unless they have a contract stating they must.
The punishment could be similar to the All-Star deal. It looks like baseball is going to limit ESPN's access to the playoffs. Frankly, this is getting ridiculous.
If there is no contract in place requiring them to do so, isn't this baseball's problem and not ESPN's? Why should the network feel compelled to promote the competition out of the goodness of their hearts?
("I know that we have this great MAC football game on tonight, but we really want you to watch the baseball playoffs on FOX and TBS. Enjoy! Just ignore us!")
I can't imagine that this is a good thing for the long-term business relationship between ESPN and Major League Baseball. The embargo issue in July was one thing, because it could be fairly argued that ESPN was in the wrong. In this case, ESPN is absolutely not wrong, and baseball should be ashamed at themselves for bullying a good broadcast partner and promoter of the sport. After all, ESPN stuck with baseball through some pretty lean years.
I hate to say things like this, because I'm not a fan of ESPN's baseball coverage these days, but go ESPN. I hope you win this battle.