(Before I begin, a few things to note. You'll read some information in these previews that was blatantly stolen from the Pro Football Prospectus book, an extremely enjoyable publication released by the brains behind
Football Outsiders
. I want to give my props to Aaron Schatz and all his experts for their hard work. While I don't yet comprehend everything in the book, there are some great points both about teams and individual players. It's all helped me increase my understanding of football, and the Prospectus will be an annual purchase for me as long as it's in publication.)
We now continue our series of
NFL previews
with a look at the NFC East. You'll notice we've gone a bit shorter with this preview. Same goes for the NFC South and NFC West. Stupid time constraints. THE SEASON OPENS TONIGHT!!!
1. Philadelphia Eagles
Last year:
10-6 (5-1 vs. NFC East)
Playoffs:
Beat N.Y. Giants in NFC Wild Card, Lost to New Orleans in NFC Divisional Playoff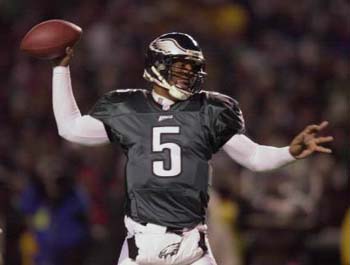 Andy Reid has Donovan McNabb back under center, but can this be a different year for him than the last? The Eagles sat at 5-4 and appeared to be heading in the wrong direction when McNabb blew out his knee last year. In his place, Jeff Garcia was more than adequate, leading the team to a division title and a playoff win at home. McNabb looked, frankly, pretty good in the preseason, so there's no reason to think he's not at full strength. Even though he is coming off a torn ACL, McNabb is almost certain not to pull a Daunte Culpepper in his return from injury.
KEY QUESTIONS
1. Is McNabb ready for full contact? We'll probably find out this weekend, when he faces a pretty good Green Bay pass rush.
2. Have they found adequate depth at WR? It doesn't look like it, though Reggie Brown and Greg Lewis are talented and young.
3. Will they remain committed to the run? By all indications so far, yes. And this is a good thing.
2. Dallas Cowboys
Last year:
9-7 (2-4 vs. NFC East)
Playoffs:
Lost to Seattle in NFC Wild Card
Bill Parcells is gone, but the Cowboys seem to think this is a good thing. He never really fostered a warm relationship with anyone, and this veteran team doesn't need a whip-cracker at this point. Enter Wade Phillips, the ultimate anti-whip cracker. It will be quite interesting to see how his anti-whip cracking ways mesh with flamboyant, arrogant, and somewhat talented WR Terrell Owens. When Owens is at his best, he's infuriating both opposing defenses and his own coaches with his on-field prowess and off-field "Look at me!" behavior. A totally silent TO is probably not to anyone's benefit.
KEY QUESTIONS
1. Can Phillips keep TO reasonably in check? Probably not, but QB Tony Romo is the one who has to keep TO happy. Keep feeding him the ball, and all will be fine. Not only that, but you could do a lot worse than getting him close to 100 catches, because he'll score you a boatload of touchdowns.
2. Will the defense emerge as a major threat? Maybe to Dallas' playoff chances, yes. The Cowboys were downright awful defensively for most of the latter part of 2006, allowing bundles of yards and points against even bad teams like Detroit. That has to turn around, or it won't matter what Romo, TO, and Terry Glenn can produce.
3. How will the team respond to Phillips? He's been extremely successful as a defensive coordinator, but he has shown virtually nothing as a head coach in two previous stints. Much like Norv Turner, Phillips is seen as a nice guy who, for some reason, just doesn't translate to the head coaching position.
3. Washington Redskins
Last year:
5-11 (1-5 vs. NFC East)
Playoffs:
None
The Redskins are going to struggle in 2007 for the same reason they struggled in 2006: lack of quality depth. They've gutted their ability to build through the draft with a series of dumb signings and trades, and they haven't exactly reminded anyone of Jimmy Johnson or Ron Wolf when they have used draft picks. There is talent here, especially with stud RB Clinton Portis, but the Redskins are going to rely on the ability to stay healthy (largely a function of dumb luck, really) to win games.
KEY QUESTIONS
1. Can Jason Campbell emerge as the team's starting quarterback? He looked good at times last year, but struggled with his accuracy. He's a pretty good athlete, a plus given the issues the Redskins will have on the offensive line.
2. Will Antwaan Randle El prove he wasn't a free-agent bust? I'm sure the Redskins didn't throw all that money at him so he could average two catches per game and 11 yards per catch.
3. Will the secondary survive some serious roster turnover? Kenny Wright, Mike Rumph, and Adam Archuleta are gone. Fred Smoot, Omar Stoutmire, and David Macklin are among the new faces, along with top pick Laron Landry.
4. New York Giants
Last year:
8-8 (4-2 vs. NFC East)
Playoffs:
Lost to Philadelphia in NFC Wild Card
No team is as ridden with controversy as the Giants. Not only did Tiki Barber retire and subsequently blame all the world's problems on Tom Coughlin (I thought it was all Bush's fault??), but DE Michael Strahan threatened to retire and basically skipped all of training camp before showing up. Oh, and it seems everyone in New York despises QB Eli Manning, even though he's steadily improved ever since his first start as a Giant.
KEY QUESTIONS
1. Is Manning really
that
bad? No. No one in New York is that bad. And it's this reporter's opinion that Eli Manning stands to benefit the most from Barber's departure and mouth-running. I don't particularly care what Barber has to say, and I'm not bothered by his decision to say what he says. But I also believe pretty strongly that Eli Manning is a better football player than he's been given credit for, and we'll start to see that this year.
2. What to do without Tiki? No doubt Barber was the focus of the offense, putting up some serious numbers with over 2,100 total yards last year. However, there were times that Barber was too much the focus. It's the old Bill Simmons Ewing Theory. The problem here is that Brandon Jacobs and Reuben Droughns aren't really good enough to pick up the running slack, so the gains the Giants make in the passing game will probably go largely unnoticed.
3. How much of a potential disaster is this secondary? It wasn't good last year, and unless you really like Texas CB Aaron Ross, the Giants' first-round pick, you probably don't like their chances to improve greatly. The best players from last year, CBs R.W. McQuarters and Sam Madison, aren't getting any younger.