Let me start by giving the automatic disclaimer.
I really like Donovan McNabb. I think the world of his football talents, and I think he's one of the better people in the NFL. He's classy, intelligent, well-spoken, and survived the Terrell Owens reign of terror in Philadelphia with his job intact.
So what I am about to say has nothing to do with what I think of McNabb as a person or as a football player.
What is this? It's an acknowledgment of something we already knew: No one is perfect, and no one is always right.
What McNabb
tells HBO's James Brown
in an interview for Real Sports is wrong.
"There's not that many African-American quarterbacks, so we have to do a little bit extra," McNabb tells HBO. "Because the percentage of us playing this position, which people didn't want us to play ... is low, so we do a little extra."

In just-completed Week 2, five of the 32 teams (15.6 percent) had black starting quarterbacks. Later in the interview, Brown presses McNabb on criticism of his performance -- and if African-American QBs are graded more harshly.

"I pass for 300 yards, our team wins by seven, [mimicking] 'Ah, he could've made this throw, they would have scored if he did this,' " McNabb tells HBO.

"Doesn't every quarterback go through that?" Brown asks. "Not everybody," McNabb replies.

Brown then asks if the media is tougher on him than on white quarterbacks such as Carson Palmer and Peyton Manning.

"Let me start by saying I love those guys," McNabb tells HBO. "But they don't get criticized as much as we do. They don't."
Allow me a chance to respond.
First off, McNabb brings up a point that is absolutely worth discussing. In fact, it's as much worthy of discussion now as it was when Rush Limbaugh
said what he said
on ESPN back in 2003. In a way, that's pretty sad. We're no more comfortable talking about issues of race now than we were FOUR FREAKING YEARS AGO.
What isn't McNabb saying? He's not saying that he gets treated like crap because he's black. Similarly, Limbaugh wasn't saying that white quarterbacks get treated like crap because they're white. He simply said that the media had a desire to see a black quarterback succeed, and that may have masked some of McNabb's flaws as a player. After all, Philadelphia was winning games. Broken down, Limbaugh's argument was simple. He didn't think it was fair for the media to give McNabb all the credit for his team winning when it was the defense doing the dirty work (one of the exact quotes from Limbaugh's commentary: "The defense carried this team.").
Look back at those early 2000s Eagles. What is wrong with saying that McNabb didn't really carry that team? He didn't. The Eagles were average throwing the ball, pretty good running it, and really good on defense. McNabb missed six games in 2002, and the team barely missed a beat all season.
Anyway, I'm not here to defend Rush Limbaugh. I don't have enough time or energy to accomplish that. We've basically taken some rather interesting and thought-provoking remarks that were directed at the media and turned them into an indictment of the man's character. Oh, and it was four years ago. That, too.
What I'm wondering is why a guy who, in 2003, was mad at Limbaugh for "going to skin color", and said "I thought we were through with that whole ordeal", would find it necessary to "go to skin color" in 2007. If anything, it's a better climate now for black quarterbacks than it was in 2003.
More than anything else, I take extreme issue with his insinuation that people don't want blacks to play the quarterback position. Personally, outside of Byron Leftwich in Jacksonville, I find it hard to locate a black quarterback who hasn't gotten a fair shake from his team in recent years.
(By the way, in case you forgot, Leftwich was benched in favor of David Garrard, who is also black.)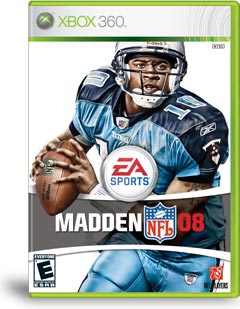 Michael Vick was basically given a free pass by many despite his inability to consistently throw the ball with accuracy. Not only that, but he flipped off his own home fans and somehow got away from the incident with his endorsements intact. McNabb has been great in Philadelphia, and outside of Philadelphia (a town that tries to run out all their star athletes, it seems), there has been nothing more than isolated criticisms of his game. Tarvaris Jackson was basically handed the starting job in Minnesota despite the fact that he appears neither mentally nor physically ready to be a starting NFL quarterback. Vince Young hasn't even played a full season and is already on the cover of the world's most popular video game. Hard to argue that he's been mistreated in any way. Steve McNair is one of the most respected veteran quarterbacks in the league, and it could be argued that he got a bit of a pass considering how up-and-down he was last year despite his team's great record.
The comments about Palmer and Manning are just silly. Manning just got done shaking a years-old label that he can't win the big one. It's a label that went all the way back to college. Palmer, meanwhile, has been outstanding. Dare I say he's been a better overall QB than McNabb, but his team hasn't accomplished a Super Bowl trip like McNabb did. Certainly, Palmer's not immune to criticism, but he hasn't exactly stunk at the position.
I'm all in favor of this discussion, but I think McNabb would find, with some research into what he said, that he's not accurate in what he said. Around the league, black quarterbacks are treated more than fairly. Just ask Rex Grossman if he thinks skin color allows guys special treatment.