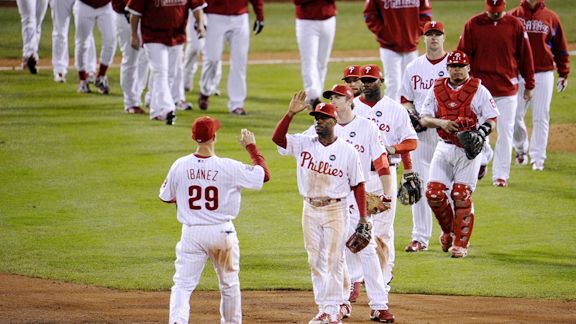 ... it might as well go seven games and end with a colossal Yankee choke.
Right?
I've been torn throughout the World Series. My mom is a huge Yankee fan, and she would thoroughly enjoy if they won their 947th title. She's about the only one I know who would.
Even fervent "pro-American League" people I know won't root for the Yankees, because they're the Yankees. When they have a hole (mound, first base, third base, center field, left field, etc.), they go buy the highest-priced free agent on the market.
If it just stopped there, we'd probably have no issues. The Red Sox, Dodgers, Cubs, Mets, and others all do this, and none get nearly the scorn of the Yankees.
But the Yankees don't just stop at winning the bidding. They set unreasonable market values for the players while they're at it. A good example of this is C.C. Sabathia. The big lefty is not at all unlikeable, even in pinstripes. The Brewers, who traded for him last summer, got to the playoffs largely on the impact he made in the rotation, and they offered him a huge contract during the offseason.
The Yankees, knowing the Brewers were the only serious bidder, outbid Milwaukee by some $60 million.
(Let's not kid ourselves. The total value of the deal is all that matters, as baseball contracts are guaranteed. This isn't the NFL, where the best deal might not be the one that is longest or comes with the most total value.)
Pressured by the players' union and their agents, guys like Sabathia and Mark Teixiera have to take these bloated deals, no matter what they think of playing in that fishbowl.
Hopefully, these guys are careful. Alex Rodriguez was always a bit slimy, but he had a sterling reputation until he got to New York. Now, he's a steroid-using adulterer who chokes in the clutch.
Anyway, Philadelphia isn't a whole lot better. The organization spends reasonably, which is admirable, but the fans there are crazy. Plus, they won last year. Who wants to see the same team win every year, unless it's their own?
I mean, the Yankees haven't won a World Series in a long time. I'm not saying you should root for them, but it is worth noting.
In the end, it's the Yankees, and you can't root for them unless you hate kittens. I like kittens, so I'm reluctantly pulling for a repeat. I'll admit that my enthusiasm is a bit greater now, because the Yankees had a 3-1 lead in the series and they get the last two games at home.
But I still can't get enthused about this World Series.
Like Cubs fans, I guess I'll have to wait 'til next year.