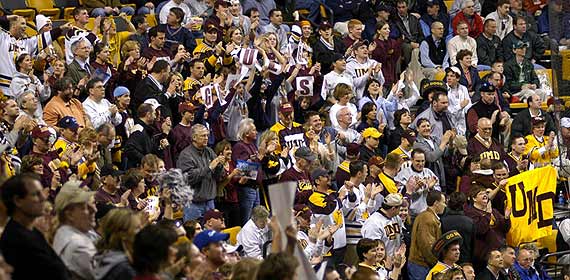 On Oct. 18, there were
words written in this space
regarding the behavior of UMD students at a couple of the first five home hockey games.
The reason for that was, as a parent of an avid UMD hockey fan, it was my feeling that the behavior needed to stop before things got to a point where mass numbers of students were getting removed from games and having their season ticket privileges revoked.
UMD has only played two home games in the last three weeks, and one of them was sparsely-attended by students because it was Halloween night. Frankly, it was too early to judge if the backlash felt by students -- both from outside and inside the university -- was going to be enough.
Unfortunately, the
Duluth News Tribune
decided to take an ill-timed leap onto the bandwagon. Instead of writing a balanced article that addressed what happened, why it happened, and how people are already working to prevent it from happening in the future, the DNT did what it does best. It slammed the students who attend UMD and generally make Duluth a better place to live.
I don't know Jana Hollingsworth, and this isn't meant as anything personal, nor is it meant as any kind of slam at her journalistic talents. I'm not qualified to discuss those things, and I will not attempt to.
However, it's obvious from
the finished product
that either Jana didn't do all the necessary work to craft a well-rounded story, or the paper chose not to highlight all sides of the issue. Either way, someone has done something wrong.
If you missed our earlier work, you probably don't know what happened. During an Oct. 17 game at the DECC, inappropriate chants were directed towards the visiting team, Minnesota State. UMD's well-run fan site
has a message board thread
on the issue, one that has received over 2,200 views since it was first posted after that game. The discussion in that thread was generally centered around the idea that the leaders of the student section are well aware of what happened, and they're going to do what they can to prevent it in the future. It's hard for a small group of young people to police over 400 fans, but they're going to try, and it's generally worked well for this section over the years.
The DNT story centers around a student and her mother, who attended the game.
"I couldn't believe that I heard it," said Alyssa Longley, a UMD freshman who attended the game with her parents.

"There's not one person that couldn't have heard it."

Longley was seated across the arena from where the chants originated.



"Group mentality took over; they ended up portraying UMD as a vulgar and clearly not open-minded place to be, where I feel very comfortable on this campus being a lesbian," Longley said. "I am treated really, really well here. They didn't show that … at that instance."



... Kathy Longley received responses from several UMD administrators, including an official written apology. And Nielson sent an e-mail to UMD student season ticket-holders, who make up the majority of students attending the men's games.



The e-mail warns students that those who violate Western Collegiate Hockey Association, National Collegiate Athletic Association and university policies regarding fan behavior — including racist and sexist language and profanity — won't be tolerated. Violators — and possibly the entire fan section — will be removed from the game and they could have their season tickets revoked, Nielson said. The student chants at the Mankato game were cited.
None of this is really a problem. In fact, it makes perfect sense and should stand as an official university position.
But where is the quote from a student section leader? Using the already-linked UMD fan site, it takes about two minutes to sift through the thread about the student section and find the username of a current leader. You can contact any member of the board through the site itself, so you don't even need their private e-mail address.
It was the responsibility of the newspaper to report all sides of this issue. In this case, for whatever reason, they failed.
(Naturally, if they tried to get a hold of people who are leading the student section, and had no luck, they would have noted this in the story, right? That's pretty common and fair practice.)
Even more strange was the decision of the paper to dedicate a large chunk of its
daily editorial page
to the story.
The moment wasn't unprecedented, either. It was at least the third time in 12 years profane chanting has marred a UMD hockey game, according to Bill Wade, who oversees athletics at UMD as vice chancellor for university relations and development.
OH, NO! NOT THREE TIMES IN 12 YEARS! MERCY!!
Ahem ...
The same kind of offensive behavior -- or worse -- occurs approximately three times every 12 minutes at a St. Cloud State game.
Actually, the parent of an SCSU player has verbally harassed UMD fans in the National Hockey Center each of the last two years. Surely, you'll be stunned to know that the St. Cloud Times has dedicated exactly zero words to those incidents, and they surely haven't reported on them three weeks after the fact.
Sadly, neither has the
Duluth News Tribune
, which could have used testimony from either incident to show that fans who attend games at the DECC typically don't encounter anything nearly as hostile as when you go to other cities and watch the way their fans behave.
Instead, it almost feels like the paper is more interested in making UMD and its fans look bad.