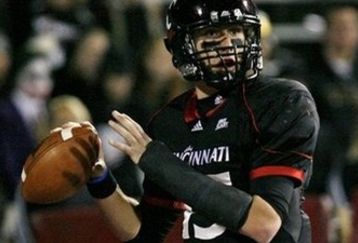 The internet is exploding with talk of a boy in a balloon. Sorry, but we're here to talk football.
The Big East is getting no attention, mainly because we just don't know how good its best teams are.
Cincinnati and South Florida are unbeaten, each has won a quality road game, but neither is really in the BCS conversation. Pittsburgh shouldn't be forgotten about, either.
For now, though, the focus is on Cincy and USF, as they clash Thursday in Tampa. The Bulls are the more quiet of the two, still unbeaten despite a devastating knee injury suffered by senior quarterback Matt Grothe. The Bearcats are primed, it seems, to be in this position, led by an experienced and uber-talented quarterback in Tony Pike, and coached by one of the true up-and-comers in the college game. Brian Kelly might be at a bigger school soon, but for now, he's focused on leading the Bearcats to the promised land.
In a year where there are one-loss teams all over the place, does Cincinnati really have a shot? We may never know, because they have to somehow beat the Bulls, who have built a great program and developed a nice home-field advantage at Raymond James Stadium.
With a game like this, the easy reaction is to go with the home team. USF has been well-seasoned for this moment, but they're facing a team that is more talented on each side of the ball. Pike and the Bearcats eek out a narrow win on their road to BCS contention.
The pick: Cincinnati
Oklahoma vs. Texas (at Dallas):
I don't care how healthy Sam Bradford is, or how much better Oklahoma's defense is than it was last year in this game. It doesn't matter. The Longhorns have been playing for this game for a while, and they got their wake-up call last week when they got off to a poor start against Colorado. I say the Longhorns win easily.
The pick: Texas
Virginia Tech at Georgia Tech:
I've been constantly dogging both these teams, it seems. I doubted them both in preseason, and it's taken me a while to come around. The Hokies have developed a passing game, but it will be interesting to see how it performs in a tough environment. They have also shown an ability to stop the run, which will help them a lot against the Yellow Jackets and their option offense. I'll take the visitors, based on their more balanced offense, solid defense, and always-explosive special teams.
The pick: Virginia Tech
Iowa at Wisconsin:
The Badgers looked like hell for much of Saturday's loss to Ohio State, making dumb mistakes and basically handing tOSU the game. Iowa is 6-0, but they get no respect. They should. This is a solid team that does enough to win, a trait that shouldn't be lost because they don't win games 44-3. Ricky Stanzi runs this offense very well, and it seems they have finally found a way to get the offensive line to protect the quarterback. Wisconsin is in trouble, because if they play the same kind of mistake-prone football they did last week, they'll get blown out of their home stadium.
The pick: Iowa
Other games (home team in CAPS)
NOTRE DAME over Southern Cal
PENN STATE over Minnesota
NEBRASKA over Texas Tech
Kansas over COLORADO
ALABAMA over South Carolina
OKLAHOMA STATE over Missouri
Northwestern over MICHIGAN STATE
IDAHO over Hawai'i
Last week: 7-4
Season: 48-26