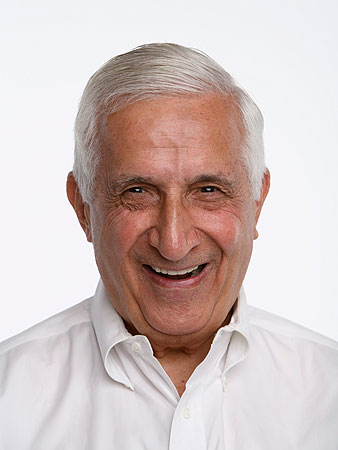 Sid Hartman has been a sportswriter longer than most of my readers have been alive. He's seen some great things in Minnesota, and he's been there to write about them.
Well into his 80s, Sid still writes a regular column of sports notes for the
Minneapolis Star Tribune
. He's built an untouchable list of contacts over the years, allowing him access to the thoughts of sports' biggest names.
Sometimes, he uses that access to help out his friends, but no one really cares, because it's Sid.
He has other flaws, including his failure to take hockey seriously a lot of the time, and there are times that he comes across as quite dated in his commentary about Minnesota sports issues, especially on the radio show he does Sunday mornings on WCCO-AM.
His latest newspaper column highlights the situation involving Minnesota Timberwolves first-round pick Ricky Rubio. You may be aware that Rubio is from Spain, is a pro player in Spain, and is currently trying to get out of his contract with his current team there. There has been chatter he doesn't want to play for Minnesota, even though he has never said that.
Anyway, one of Hartman's buddies is NBA agent Bill Duffy, who represents many clients, including fellow first-round pick Brandon Jennings, a point guard who played pro ball in Italy a year ago before moving back to the States for a shot at the NBA.
Duffy, who is the agent for another high pick at Rubio's position, shockingly told Hartman that
he thinks Rubio is overrated
. Since Duffy and Hartman are buddies, Sid decided to use this as the framework for his column.
"To be honest with you, the other kid, Brandon Jennings, who played in Italy, ranked higher," said Duffy, referring to his client, a point guard who was picked 10th by Milwaukee. "I had three other first-round point guards, but I didn't have [Rubio] ranked that high. I think he is pretty good, but I think he might be a little hyped up.

"He is a flashy guy and he is young, but I think it is a lot of hype. I mean, he will be a good player, but they are trying to compare him with my guy Steve Nash or John Stockton -- I don't see that."
At least Duffy admits to being Nash's agent, and Hartman discloses that Jennings is a Duffy client, too.
But honesty shouldn't hide us from the fact that this article is full of holes.
I have no idea which first-round point guard will have the most NBA success. It could be Rubio, Jennings, Jonny Flynn, or Ty Lawson for all I know.
What I do know is that if I wanted to get an honest opinion on which guy would be the best, the last person I'd ask is an agent who represents some (but not all) of those prospects. He might not want to admit it, but the opinion he gives will usually be quite biased and unreliable.
After all these years as a sportswriter, it's hard to believe that someone like Sid Hartman would make this mistake.
Or maybe it isn't.