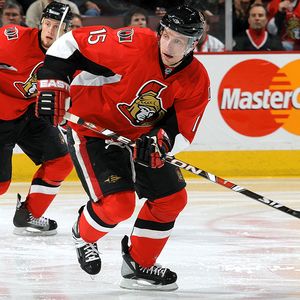 If a player wants a trade, can the player really choose where he gets traded?
Evidently, Dany Heatley thinks so.
Heatley has requested a trade from the Ottawa Senators. Grumblings have him and head coach Cory Clouston not getting along very well.
I have never begrudged an athlete for wanting a trade, as long as they're respectful about it. Sometimes, life in a certain city or with a certain coach just isn't what you thought you were signing up for.
Heatley's case is interesting, because he signed a contract just a year ago that includes a no-trade clause, and now he wants to be traded. Oh, and he carries a $7.5 million cap number wherever he goes.
Anyway, Heatley was presented with an offer by the Senators to trade him to Edmonton Tuesday night. Since he -- you know -- wants to be traded, why would anyone think he is going to reject that offer?
He rejected it
.
On the bright side, it's not a flat-out rejection. Instead, Heatley is
going to "sleep on it"
, meaning he could wake up this morning and say he's okay going to Edmonton.
I bet Edmonton will just love that.
Like I already said, I don't begrudge Heatley for wanting a trade. The Senators changed coaches twice in the last 12 months, and that can be a lot to go through. The system and the locker-room atmosphere -- important to most everyone who plays in the NHL -- have been almost totally overhauled, and Ottawa's in a position to get even younger than they already are.
However, once Heatley asked for a trade and let the word out like he did, he effectively ruined Ottawa's leverage. After they got a pretty decent offer from Edmonton (Andrew Cogliano is the centerpiece of this deal, but Ladislav Smid is young and still carries plenty of potential on the blue line), having Heatley pull this stunt only throws a monkey wrench into the Senators' rebuilding plans.
If Heatley is going to insist on a trade to either the Rangers or Kings (teams thought to be in play for him), the Senators must stand firm. If their best offer truly is from Edmonton, then that's the only trade Bryan Murray can allow to happen. Yes, it sucks to pay the guy a $4 million bonus if he's still on the roster at the end of the day.
But you signed that deal, and this is the only way to go. You can't let a guy get what he wants when it has the potential to cause serious damage to your own team.