This year's
College Football Preview
uses information gathered from many sources. As usual, my full endorsement goes to Phil Steele and his
College Football Preview
, which is the most comprehensive publication of its kind available. I also used The Sporting News College Football Preview, along with school websites and local newspapers, in my research for these preview posts. Please contact me ASAP if you have updated information that can be used to make this work more accurate.
NORTH DIVISION
1. Kansas
2. Nebraska
3. Colorado
4. Kansas State
5. Missouri
6. Iowa State
SOUTH DIVISION
1. Texas
2. Oklahoma State
3. Oklahoma
4. Texas Tech
5. Baylor
6. Texas A&M
Fab Four: Top Storylines in Big 12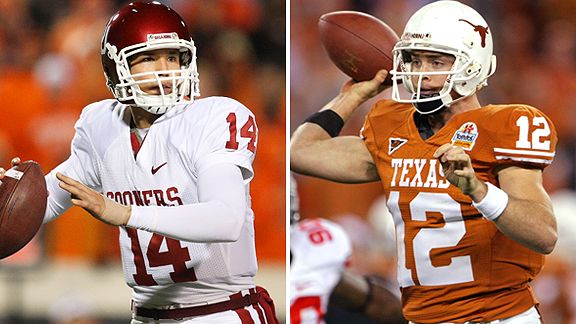 Bradford vs. McCoy/Oklahoma vs. Texas may have company.
There are many schools of thought on this year's Big 12 race. In the reading I've done, the most popular one is that the Texas/Oklahoma game in Dallas will decide the Big 12 South title.
While it makes perfect sense, Sam Bradford and Colt McCoy aren't the only big-time players in this division race. Don't sleep on Zac Robinson.
Once best known as the guy Mike "I'm a Man! I'm 40!" Gundy elevated to starting quarterback ahead of Bobby Reid, Robinson is poised to do his most damage yet as a senior. Top receiver Dez Bryant returns, as does dynamic leading rusher Kendall Hunter. The defense will (not "might") be much improved, and Oklahoma State gets Texas, Texas Tech, and Colorado at home in conference play.
As for Oklahoma, they should have a strong defense, but can the offensive line come anywhere near last year's performance. A huge part of Bradford's Heisman credentials came from the fact he was only sacked 11 times in 13 games before the national championship. Bradford gets left tackle Trent Williams back, but every other starter will be new.
Texas has McCoy -- almost a shoo-in for a trip to New York in December -- and he has his entire offense back after averaging over 42 points per game last year. The Longhorns' defense looks to be potentially phenomenal, too.
Are the Blackshirts back?
Brothers Bo (head coach) and Carl (defensive coordinator) Pelini have only been on the job in Lincoln for one year, but results are already starting to show. The Cornhuskers shaved more than a touchdown per game and almost 125 yards per game off their hideous 2007 numbers. Not only that, but the rush yards per game were cut exactly in half between 2007 and 2008.
Nebraska is now ready for a defensive breakout, as the Cornhuskers return the entire secondary and seven total starters from last year. Chief among these returnees are senior safeties Larry Asante and Matt O'Hanlon, along with senior defensive tackle Ndamukong Suh. The Pelinis understand that there is only so much they can do at once, but getting this defense to play again at a high level is a huge part of restoring the pride in Nebraska football. What happens on offense isn't at all insignificant, but it does take a back seat to the work being done by the defense.
Bill Snyder's return.
When Kansas State jettisoned Ron Prince, no one knew that they had this in mind. Snyder turns 70 during the season, he says he won't stay long, but he is indeed back. His previous K-State stint saw him win 136 games and perform well enough to have the football stadium named after his family. He told ESPN earlier this month that he'll stick around "as long as it takes" to get the program on solid footing. Of course, he did also said he wouldn't stay long, which implies that he is very confident in his own skills, and he must think Prince was totally incompetent.
Snyder's defense is fast and experienced, though not blessed with awe-inspiring size. There's no way K-State allows 35 points per game again. The problem could come with an offense that was good last year, but lost its triggerman when Josh Freeman went to the NFL. If the Wildcats can find a way to protect new starter Daniel Thomas, they should have a good chance to return to the postseason.
Then we can see next year how Snyder does coaching Prince's recruits.
The rise of Baylor has begun.
A little-known freshman named Robert Griffin took over as Baylor's starter not long after the season opened with a disastrous 41-13 home loss to Wake Forest. Yes, the Bears again slumped to a losing season, finishing 4-8, but Griffin was a great find and a perfect fit for Art Briles' spread offense.
Griffin is a great athlete, but showed himself to also be a tough kid and a mature leader for Baylor. He totaled nearly 3,000 yards (combined passing and rushing), scored 28 touchdowns (15 passing, 13 rushing) and tossed just three picks in 267 throws. All of a sudden, Baylor football was becoming exciting, and much more competitive.
The transition continues in 2009, as Griffin has all his key weapons back, an offensive line that's almost completely intact, and should benefit greatly from a full offseason in Briles' scheme. Not only that, but the Bears' defense, which allowed less than 30 points per game for the first time in three years, gets eight starters back, including its top four tacklers. Also returning are team leaders in passes defensed, interceptions, and tackles for loss. While all three non-conference home games should be wins, the Bears will again struggle in Big 12 play, as they're not ready to compete with the likes of Oklahoma, Oklahoma State, and Texas.
Best of the rest
Kansas
should roll on in 2009, thanks to a loaded offense and what should be a much-improved defense. While everyone fawns over guys like Bradford, McCoy, and even Robinson (rightfully so), Todd Reesing is often forgotten as a top college quarterback. ... Quarterback Cody Hawkins took a big step forward for
Colorado
last year, but the offense as a whole did not. Hawkins' decision-making has to improve so he can avoid the kinds of hits he took in 2008, while giving his playmakers a better chance to do things in the open field. ...
Missouri
lost a ton from last year's team, including a Heisman candidate at quarterback, the top three receivers, and five of the top eight tacklers. Good luck with that. ... Another new coach at
Iowa State
. If Paul Rhoads decides to bolt after two seasons, maybe he'll be kind enough to win more than five games before heading out the door. While a losing season is likely, Chizik did leave a stocked cupboard for Rhoads. If he can get his team to play with some confidence defensively, they could build a postseason contender. ...
Texas Tech
has to replace another quarterback and another receiver. Something tells me it won't be as easy as it sounds or than it has been in the past. Graham Harrell and Michael Crabtree weren't just system guys. Well, at least Crabtree wasnt. ... Mike Sherman's tenure at
Texas A&M
didn't start well, thanks to a home loss to Arkansas State. It doesn't look good this season, either. The Aggies still have some miscast parts on offense, though junior quarterback Jerrod Johnson could be a good one. If they can play a little defense, they may be able to stage a battle for fourth place in the division. That's a big "if", however.
Big 12
Preseason Honors and Notables
Offensive Player of the Year:
Colt McCoy, QB, Texas
Defensive Player of the Year:
Gerald McCoy, DT, Oklahoma
Coach of the Year:
Dan Hawkins, Colorado
Coach on the Hot Seat:
Mike Sherman, Texas A&M
Best non-conference game:
BYU vs. Oklahoma (at Arlington), September 5
Worst non-conference game:
Northern Colorado at Kansas, September 5