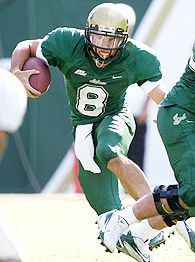 Really, we don't know anything.
If I asked 100 college football fans to name the two teams they thought were the best in the country, we'd get a ton of different answers, with each one being totally justifiable.
I mean, whoda thunk South Florida? Kansas? Boston College?
This is the most messed-up year in college football history. I think it sets up as a perfect argument for a playoff, but I'm not going to go there. It's not worth the breath, since I really won't convince anyone.
But, really, who are the best two teams in college football right now?
We just don't know.
Last week: 5-7
Season: 75-25

Northwestern at Eastern Michigan (Friday):
Northwestern is a tough team to get a good read on, but there's no way they lose this game.
The pick: Northwestern

Penn State at Indiana: The Hoosiers are one win away from being bowl-eligible, and that 13th game would mean a lot to them. Penn State isn't as good as Wisconsin made them look last week, and they will struggle to slow down Indiana's offense. What is questionable, especially after last week, is whether IU can stop the run enough to come out on top. I think they will, though I'm very apprehensive about making this pick.
The pick: Indiana

Iowa at Purdue: Neither team is consistent, but Purdue has the ability to spread out the Iowa defense, which is short on depth in the secondary. Iowa should cause some problems with their run game, and could get a second straight win if QB Jake Christensen plays mistake-free. However, Purdue is not a good matchup for Iowa's defense, and they'll win at home.
The pick: Purdue

Northern Illinois at Wisconsin: The Badgers have trailed in every game so far this season, and if that's going to change, this would be a good week for it. Wisconsin needs to find their defense, and NIU shouldn't be much of a threat even if the Badgers still can't get that going.
The pick: Wisconsin

North Dakota State at Minnesota: Don't be fooled by "I-AA" (er, FCS) status for NDSU. This team can play. The Gophers have a problem. Even if they show up to play, their defense is sorely overmatched, and the offense is too accident-prone. Yes, I'm serious. Get in line, Appalachian State.
The pick: North Dakota State

Michigan State at Ohio State: Best test this season for the stout tOSU defense. They'll pass, and they'll score just enough to hold Sparty at bay.
The pick: Ohio State

Michigan at Illinois: Big game for both. The Illini are coming off their first Big Ten loss, and Michigan is trying to continue their resurgence. The Wolverines did a good job against the Purdue spread, but Illinois runs the ball better, making for a tougher matchup for Michigan. The Wolverines will struggle to win a close game, and if Mike Hart can't go full-boar, they're in trouble.


The pick: Michigan




South Florida at Rutgers (Thursday):
As interesting as this game is, it would be more interesting if Rutgers hadn't fallen flat on their face. Two home losses, and USF primed to make it three. I think Ray Rice will have a good night, but it won't be enough for the Knights to pull off an upset.
(Seriously, who would have thought, before the season started, that Rutgers would be aiming to pull an upset in this game?)
The pick: South Florida


Other picks (Home team in CAPS)
California over UCLA
MISSOURI over Texas Tech
KENTUCKY over Florida (yeah, I know I'm a week late jumping on this bandwagon)
Kansas over COLORADO
MARYLAND over Virginia
LSU over Auburn