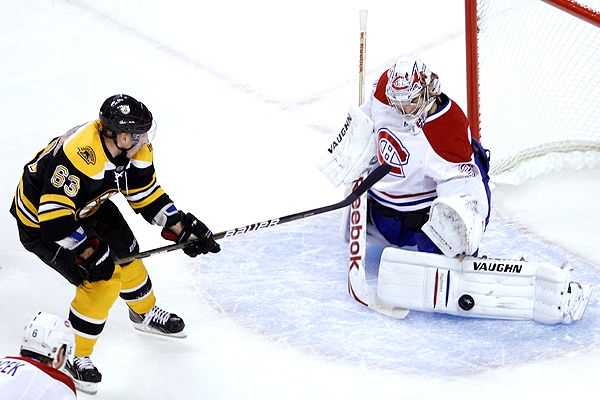 Some thoughts on the night of hockey action:
After home teams dominated Wednesday, road teams turned the tables a bit on Thursday. Now, though, is when things start to get interesting. Anyone who lost Game 1 can -- no matter the matchup -- make a case for being right back in the thick of things by winning Game 2, and all eight Game 2s will be played either Friday or Saturday. Teams like Anaheim and Boston, which lost at home, need to win to avoid hitting the road down 2-0 in their series. Those are absolutely critical games, especially for these two teams (no offense to Buffalo, but I'll believe Philadelphia is in trouble when they're down 3-0 in the final minute of an elimination game). Nashville and Montreal are tough environments with great crowds, and they'll feel like hornets' nests if those respective teams go home up 2-0.
How about Carey Price Thursday night? Simply outstanding. You had to think he was really dialed-in mentally early in the game, when Dennis Seidenberg threw a slap-pass down low for Brad Marchand, looking to set Marchand up for a deflection. Price was out so far to cut off Marchand's angle that he almost could have intercepted the pass, and Marchand could only tip the puck into the middle of Price's jersey. Montreal already led 1-0, but that play showed me a goalie who was seeing the puck incredibly well and also adeptly reading the play in front of him. He saw the slap-pass coming from Seidenberg, and knew exactly what to do to snuff the play out. It doesn't look like a glorious chance on the video, but that's because Price played it so intelligently.
How nervous is Boston right now? That fanbase is ready to turn on Claude Julien -- if they haven't already. Not a thing he can really do about it, unless he has some sort of magic potion in his pocket that will turn Price back into a sieve. Julien is a good coach who has done a lot to help get this franchise going again, but they blew a 3-0 series lead and a 3-0 Game 7 lead in their last go-round in the playoffs, and now they're down 1-0 after losing at home to an arch-rival this year. That's three home playoff losses in a row. Oh, and the year before last, they lost Game 7 at home to underdog Carolina. It might not be Julien's fault, but I tend to believe he's going to pay dearly if his team doesn't win this series.
With how the season went for the Los Angeles Kings after a great start, it's fair to say that things could have gone south in a hurry Thursday night, when Dany Heatley gave the Sharks a 1-0 lead at 28 seconds of the first period. What an awful first shift for the Kings, who came out like it was November 14 and not April 14. No intensity, no one moving their feet, no one even competing to win battles for position or win races to spots. Heatley snuffed out a scoring chance with a solid backcheck in the San Jose zone (yes, Dany Heatley was seen backchecking ... someone check the temperature in Hell), then raced up the rink ahead of everyone in white and got to a loose puck in front of the net after Jonathan Quick made a kickout save. Give Los Angeles credit, because they outshot San Jose after the first period, and they played much better. The Sharks found a way to win in overtime, which isn't a huge surprise, given that I think they're a better team.
Ryan Miller is pretty good. I liked what Lindy Ruff said after the game, when a reporter asked him about his team's defensive effort. I don't remember the exact quote, but it something along the lines of how he thought neither team was going to score for a while. It was the kind of game that had that feel to it, because the team defense both ways was outstanding. You might assume this is a surprise, given that Philly is missing Chris Pronger and they have so damn much firepower on offense. But the Flyers packed it in well when the Sabres had the puck, and Buffalo did the same to Philly. Miller was very good, but he had help in front of him. It was a great goaltending performance, but as much a team shutout as any you'll see. There isn't quite as much pressure on Philadelphia Saturday as you might think, because they've got such a large amount of offensive talent, and the Sabres can't afford to let this turn into track meet hockey.
How about the idiot reporter at Philly coach Peter Laviolette's press conference after the game? Asked the coach about Pronger and if Laviolette thought it was a key loss for the team to have to live with, and if he could have made an impact on the game. Really? Have you ever seen the Flyers when they have a healthy Pronger? What a stupid question. Laviolette handled it as well as he could, mumbling something about how Pronger "isn't available right now," and he wasn't going to spend time talking about how his presence would make things different. I mean, duh.