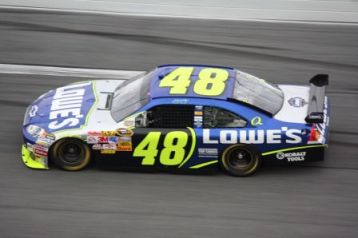 Every weekend, NASCAR stops at a track for a race or two or three in their major national touring series. Every time, there is a prescribed speed limit to be enforced on pit road.
This past weekend, the track in play was Martinsville Speedway in Virginia. It's a short track, and the speed limit on pit road in 30 miles per hour. The typical penalty for speeding is a pass-through, meaning a driver has to go through pit road at the speed limit while green-flag racing is going on.
Five-time defending Cup champion Jimmie Johnson, winner of five races at Martinsville over the last five years, was the latest big-name driver to suffer a speeding penalty on pit road and vehemently dispute it. It was a penalty that took Johnson out of contention for the win, which eventually went to Kevin Harvick.
Johnson, who was caught going 35.53 miles per hour in one of the timing loops on pit road, was
clear after the race
that he felt he was wrongly caught.
"I wasn't speeding,'' Johnson said. "There is just no way. People will say whatever. But with the match and the way we know (the location) of our timing lines, there is just no way. There is just no way. There is just no way. It won't do me any good to have a conversation (with NASCAR). It isn't going to matter. I guess I just can't attack pit road like I know I can and like I did every single time before this.''
Johnson is hardly the first driver who was taken out of contention in a race, and felt he wasn't really speeding.
In 2009, Juan Pablo Montoya was dominating at the Brickyard
before a speeding penalty
took him out of contention.
"If they do this to me, I'm going to kill them," Montoya said on his radio. "There's no way. I was on the green [dash light].

"Thank you, NASCAR, for screwing my day. We had it in the bag and they screwed us because I was not speeding. I swear on my children and my wife."

... co-owner Felix Sabates had a request about the speeding call.

"I just want [NASCAR officials] to show me he was speeding," Sabates said on the telecast. "If they show me, I'll be happy with that."

OK. After the race, Sprint Cup director John Darby had the specifics about Montoya's double no-no.

Pit road has eight zones where the speed is measured. The speed limit in the pits at Indy is 55 mph. NASCAR gives the drivers a 5 mph cushion.

Darby said Montoya was caught over the cushion in Zones 2 and 4. Officially, the speed was recorded at 60.06 mph in Zone 2 and 60.11 mph in Zone 4.
Whoops.
A month earlier,
25 speeding penalties were assessed
on exit from pit road in a Nationwide race at Kentucky. One of the most visible was Carl Edwards, who was penalized more than once, taking him completely out of contention.
There could be mistakes along the way, but it's hard to believe Johnson was somehow wronged and no one else got caught. Kyle Busch was obviously pushing the rules a couple times, but managed to keep his speed within the guidelines set forth by NASCAR.
Busch finished third, by the way.
It was an uncharacteristic mistake by Johnson -- whose five straight titles have been keyed by his ability to run out front and stay in contention on days where his car wasn't good enough -- at a track where he's dominated.
Way too early to say that it's a sign of things to come, but many NASCAR fans probably hope it is.