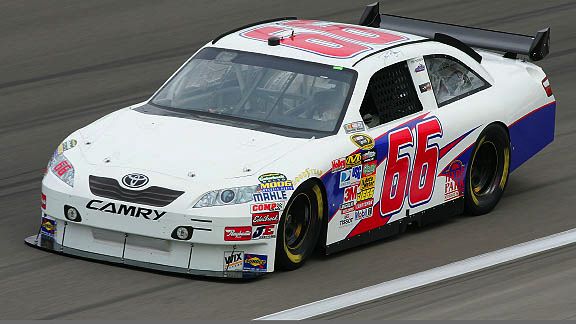 As we mentioned not long after the Daytona 500 in February, NASCAR
has a major issue on its hands
.
Every race weekend, there are numerous teams that show up at tracks for either a Camping World Truck Series race, a Nationwide Series race, or a Sprint Cup Series race, and they have no intention of even trying to compete to win the race.
The plan? Run a few laps, park the car, avoid using a bunch of tires, and collect the purse money for a last-place finish, which is enough to fund the team for another week.
In the meantime, these so-called start-and-park teams are taking spots in races away from legitimate operations that intend to run all the laps as long as the car is moving forward.
Sunday, the Sprint Cup cars ran at Indianapolis Motor Speedway, one of the hallowed grounds of racing. That apparently wasn't enough for a handful of cars who
decided to park early
for no real good reason.
Naturally, it's the same suspects as it is every week. But you're supposed to believe these problems were legitimate. Yes, NASCAR makes the teams give an excuse for dropping out, but there's no way you can believe these excuses when the same teams are pulling out of every race around the same time with the same excuses.
NASCAR scribe Jeff Gluck
probed for some explanations
as to why so many drivers cited fishy reasons for pulling out of one of the sport's major events.
TODD BODINE, finished 37th. Official reason: Rear gear. "We had a vibration in the gearbox, and it got to rattling so bad, I had to park it." Total laps: 52; total money: $134,675.



DAVE BLANEY, finished 41st. Official reason: Electrical. "We had a transmission problem in practice and it just kept getting worse. So we pulled it out." Total laps: 20; total money: $134,225.

JOE NEMECHEK, finished 40th. Official reason: Vibration. "In that first-lap accident, we got into the grass. We broke the splitter and knocked the bottom end out of the radiator. We fixed those, but we picked up a vibration we couldn't get rid of." Total laps: 33; total money: $134,375.

MICHAEL MCDOWELL, finished 42nd. Official reason: Overheating. "I got caught up in that first-lap accident. We must have stuffed some dirt into the carburetor. We tried to clean the carburetor, but it didn't work." Total laps: 19; total money: $134,125.
Look at all that money being flushed to these lame, no-effort teams.
Instead of trying to compete, the philosophy is to get in the race, and then get out as fast as possible without anyone noticing. For the first 19 races, FOX and TNT allowed the teams to hide their start-and-park ways, as announcers Mike Joy and Adam Alexander rarely -- if ever -- called out teams who pulled behind the wall early in the race.
ESPN's Marty Reid won't lie to the viewers. Instead of pretending the stands are full, or that all the teams in the race are actually trying to win, Reid is honest and forthright. Car No. 66 is a start and park. The grandstands are amazingly empty for such a huge event.
Thanks, Marty. If only NASCAR were this upfront about their inherent problems.
Maybe something would be done.
As for the start and parks, the solution is simple. No race team is so incompetent as to get a vibration, or a tire problem, or an engine issue, or an overheating in every race. NASCAR needs to put a limit on the number of times a team is allowed to run less than the full race and still get their prize money.
Either that, or a blanket rule needs to be put in place mandating that teams that fail to run at least a fourth of the scheduled laps doesn't get prize money. Ever.
Reality is that would undeservedly punish a lot of race teams, but it's time for NASCAR to do something. If they don't, the bottom line is that the sport won't grow, won't get better, and won't ever thrive the way it used to.