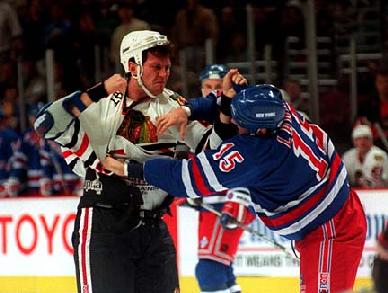 On Monday, we lost longtime NHL enforcer Bob Probert, who
collapsed and died while boating
with his family. Probert will be remembered by many as one of the most feared players of his time.
He was a rarity, a player who lasted 17 years, persevered through drug problems, was a consistently great fighter, and who was loved for a long time in both Detroit and Chicago.
As Red Wings and Blackhawks fans come together to remember their former player, the rest of the hockey world looks back on what made Probert great. While the big man scored nearly 400 points in his career -- not bad for a tough guy -- and he will always be the guy who scored the last NHL goal at Maple Leaf Gardens, Proberts fists were the stars of the show.
Here is a legendary fight he had with fellow fighter extraordinaire Tie Domi.
Probert was fishing with his four children, father-in-law, and mother-in-law when he was stricken by what his father-in-law called "severe chest pain."
Bob Probert was just 45 years old.