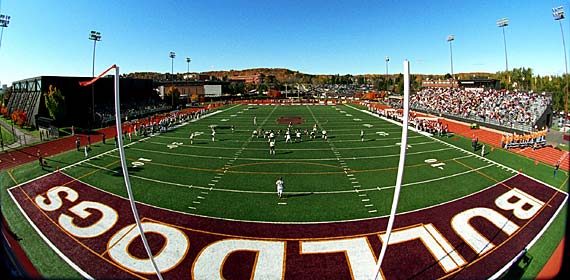 If the defending Division II national champions are to get back into the NCAA Tournament unscathed later this fall, UMD will need a huge effort Thursday night.
The Bulldogs are up against the best opponent on their 2009 schedule, former North Central Conference rival (briefly) Central Washington. The Wildcats made the Division II playoffs last year, and they are a serious threat to get back, thanks to a strong team this year.
The path they took to Duluth is quite interesting, and worth a read. This is from
Jon Nowacki of the

Duluth News Tribune
.
Central Washington plays Minnesota Duluth at 7 p.m. today at Malosky Stadium, part of an eight-day, 4,300-mile odyssey that began Aug. 27 at home in Ellensburg, Wash.

The next day the team flew from Seattle to Denver for a game against Mesa State in Grand Junction, Colo. After winning 10-0 on Saturday, the Wildcats traveled to Duluth via bus during the next four days, with stops in Cheyenne, Wyo., Mount Rushmore and Mall of America. After playing UMD in a battle of nationally ranked opponents, Central Washington will fly from Minneapolis-St. Paul to Seattle on Friday.
Central needs to get used to long trips. Western Oregon is a five-hour ride away, and they're the closest road trip on the schedule this season.
On the field, a strong Central Washington defense will look to slow down UMD's rushing attack, which worked at will in Saturday's 56-0 win over Concordia-St. Paul. Isaac Odim figures to have a much different game this week than he did last week, when it was like watching a knife go through hot butter.
Jon Lynch looked equal parts calm, nervous, and inexperienced at quarterback, and it's reasonable to suggest he'll have to make a couple big throws against the Wildcats. It might not do anything but move the secondary away from the line of scrimmage, but UMD will take that. Whatever gives Odim a little more room to maneuver.
UMD head coach Bob Nielson is spot-on when he says this could be one of the better games in all of Division II this season. The Bulldogs are primed for another title run, while Central Washington has traveled a long way for a chance to prove that they truly belong.