Yes, we're doing a College Football Preview again. Yes, you know I love Phil Steele's work. Order from his plethora of preview options here. I'm also armed with The Sporting News College Football 2010, and I picked up the Blue Ribbon College Football Yearbook this year, too. I've also done research through local newspapers and school websites to try to get the most up-to-date information on the teams.
When Joel Maturi fired Glen Mason because his team blew a 31-point lead in a bowl game on a channel no one gets (NFL Network), he reached into the large pool of middling NFL assistants who are dying to become head coaches. He plucked Tim Brewster from the Denver Broncos staff, in part because a guy named Mike Shanahan absolutely loved him.
Brewster had worked as a recruiter at Texas, claimed the credit for bringing Vince Young on board, and proceeded to give the media a bunch of bluster about Big Ten titles and Rose Bowls and things the Gophers haven't done in so long that their fans probably don't even know the things exist.
Good thing he was a talker, because the product he fed Gopher fans in the Metrodome's final seasons convinced no one of his ability to coach anything. In his first season, the Gophers went 1-11, lost to I-AA newcomer North Dakota State, and made the Big Ten proud by losing non-conference games to Bowling Green and Florida Atlantic. Things weren't much better in 2008. The Gophers started 7-1, yes, but that would be it for the whole "winning games" thing. Included in a season-ending five-game skid was an improbable 29-6 home loss to then-hapless Michigan. Then Iowa closed out the Metrodome's history of hosting Gopher football by edging Minnesota 55-0.
Last year, Minnesota almost beat Wisconsin in early October, then almost beat Illinois and Iowa later in the year. And they almost beat Iowa State in their bowl game.
Almost.
There's heat on Brewster this year. He can't afford a lot of almosts anymore, because the fans are on to the fact that he's an ace recruiter who doesn't appear to be as good a game coach.
Unless he planned to blow two timeouts to challenge an obviously correct call in the Air Force game last year. Perhaps that was intentional.
Offense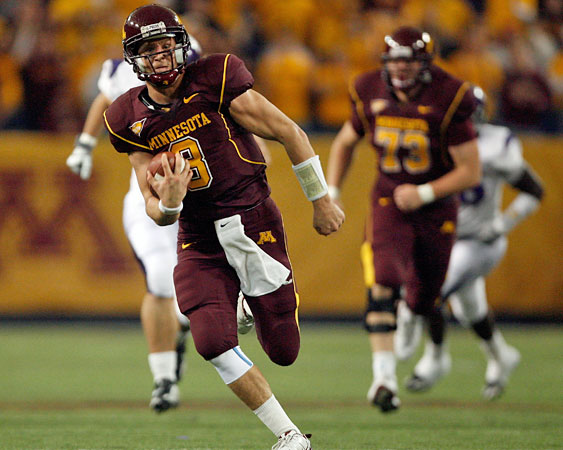 Senior quarterback Adam Weber has gone downhill for most of the last two years. He flashed some ability as a freshman on a bad team, but hasn't done much on mediocre teams since.
Not sure what that means, but Brewster's insistence on a move away from the spread offense didn't help Weber much. The fact that Duane Bennett and DeLeon Eskridge never have presented a consistent ground threat hasn't helped, either. The presense of newcomer Lamonte Edwards will help a bit this year, but after the Gophers averaged all of 99 rush yards per game last year, there isn't anywhere to go but the right direction.
Backup quarterback MarQueis Gray ran some and threw little as a freshman. Seemed like a waste of a potential redshirt, but I'm sure Brewster had a plan.
The Gophers lose leading receiver Eric Decker, but they got a good taste of life without him when he missed the team's last five games with an injury. That he still led the team in catches and yards by substantial margins shows you the state of the Minnesota passing game.
It's feeling Minnesota.
Da'Jon McKnight and Troy Stoudermire will be expected to play significant roles, but their ability to do so is questionable. The team hopes junior Brandon Green can inject some life into the receiving corps.
Four seniors are expected to start on the offensive line. That might not be a good thing, because that line allowed 41 sacks last year. Imagine if Weber wasn't a pretty good athlete.
Defense
Help wanted. Apply within.
Not much went right on this side of the ball last year. Minnesota allowed over 150 rush yards per game, opponents hit 58 percent of their throws, averaged 217 yards per game, and the Gophers only posted 22 sacks. Nine starters, including leading tackler Lee Campbell and top playmaker Nate Triplett, are gone. It's not the 2007 team that couldn't stop anyone, but it was close, and it hurt the Gophers' ability to compete in conference play.
It's too bad that the losses are so heavy, because Minnesota's run defense showed signs of life late in the Big Ten season, and the defense played well in the bowl game even though Iowa State piled up a lot of yards.
Look out for linebacker Spencer Reeves, a potentially good player who could become a leader on the strong side. Minnesota needs a lot out of tackles Brandon Kirksey and Jewhan Edwards, because the pass defense will be hurting for some time. The safety position is a mess, as Kim Royston is recovering from a broken leg and Kyle Theret is suspended at least for the opener at Middle Tennessee.
Brewster has recruited athletes all over the defense, but there simply aren't any proven players around because of graduation and suspension. It's going to be very hard for them to be remotely good on defense for at least the first few games of the season.
Special teams
Senior kicker Eric Ellestad is a bright spot. He hit 13 of 17 field goals last year. His kickoffs weren't very deep, but he has a chance to get better in that area. Freshman Dan Orseske should handle the punting duties.
Stoudermire had fumble problems last year, but he is a capable returner. The coverage teams are meh, but as the overall team depth improves, the Gophers should see improvement in this area.
Prediction
Pain.
This isn't Minnesota's year. There's already a lot of grumbling in the Twin Cities for a coaching change. The Gophers are only a field goal favorite against Middle Tennessee State in their season opener. They have to play USC Sept. 18. The league home schedule includes Northwestern, Ohio State, Penn State, and Iowa, none of which look particularly winnable.
It just seems the deck is stacked against Brewster this year. It's nothing a great coach can't overcome, but Brewster has done nothing to make anyone around the Minnesota program think he's a great coach.
In fact, it's just the opposite.
Weber must shine as a senior, no matter the offense. He has to find reliable playmakers on the perimeter, and the Gophers simply have to run the ball better.
Even if these things happen, it might not be enough for Minnesota to win more than four or five games. If they don't, they could be looking at another 1-11 or 2-10 season, and that won't fly in Gopher Country.