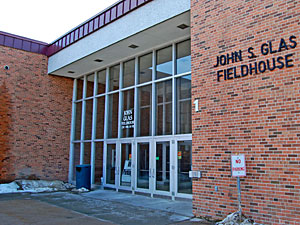 Yes, Bemidji State still has a few games left at John Glas Fieldhouse after Friday night, but for UMD, this is the last hurrah.
It's a night of mixed emotions, because this season marks the end of another old-time hockey barn.
This building isn't full of amenities. There isn't an elaborate, plush press room to sit in and conduct interviews. Usually, I end up in the bleachers to talk to UMD coach Scott Sandelin before the game.
The press box isn't comfortable, or very big. In fact, it's one of the worst broadcast setups you can imagine, because the visiting radio person (me) has to bend and see around a wooden pole that sits immediately to the left of the broadcast location.
That said, there are things to miss about a building like this.
At 2,400 seats, it's the smallest Division I facility in Minnesota. The Beavers have risen from a Division III power to a Division I contender, and now they are about to get a Division I-quality building.
That's good, because not many people who work in media will miss the old place very much.
UMD will try to close it down (figuratively) in style Friday night. The Bulldogs aren't carrying any secrets into Bemidji. Coach Tom Serratore used the word "scary" a couple times in talking about the matchup with UMD.
He's scared about the Bulldogs' top two lines. He's scared about their power play. He's frightened over their improved defensive play and goaltending.
Maybe the veteran head man has forgotten that he has a pretty good team, too.
Off a Frozen Four run last year, the Beavers started 11-1-1 this year, including their first-ever win over Minnesota. Bemidji is just a .500 team over their last nine games (4-4-1), but this is a good chance for them to gain some confidence.
Not only that, but this is a big series across Minnesota. This is from the Bemidji State hockey press notes on the weekend set:
Bragging rights within the "State of Hockey" are on the line this weekend as two of Minnesota's elite NCAA Division I hockey programs clash in a nonconference, home-and-home series.



Funny thing is that
they're not wrong
. This isn't bluster from an overzealous sports information director. It's not a program overstretching the importance of a series or the quality of the teams involved.
It's right on the money, no matter what Minnesota State's sweep of Bemidji in December makes you think.
(Yes, that same team that gooned it up against UMD swept BSU. Must be a fluke. Either that, or we need to goon it up this weekend. Where is Jay Rosehill when you need him?)
(Answer: Toronto. I know.)
The Bulldogs need at least one win for Pairwise purposes. This is a team that's been pretty good in recent years in non-conference play. No reason to think they can't pick it up this weekend.
It will be a bit tougher without junior Kyle Schmidt and freshman Wade Bergman in the lineup. Both are likely out with upper-body injuries. Schmidt's speed can be a game-changer in the offensive zone for UMD. Bergman is a good passer who can help UMD handle BSU's tough forecheck.
With Bergman out of the lineup, the onus is on the top pairing of Mike Montgomery and Dylan Olsen to have a strong game. They can't afford to get bottled up and caught in long shifts. Neither can anyone else, but these guys are going to see the ice a lot this weekend, and they have to stay fresh.
Personally, I don't have any good memories at the John Glas Fieldhouse. I have never seen UMD win there. Let's hope that changes, because we've run out of chances.