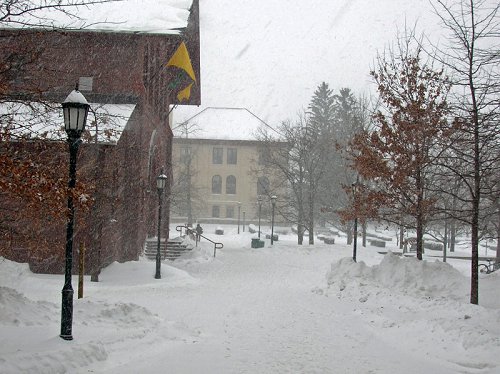 BURLINGTON, Vt. -- Just to update folks ...
UMD did arrive rather uneventfully to Burlington for this weekend's Sheraton/TD Banknorth Catamount Cup tournament. Flights out of Minneapolis and Chicago left virtually on time, and only a few UMD bags failed to arrive safely in Burlington early Friday evening. Something about a full cargo bay or whatever.
Potentially more worrisome for us is an impending snowstorm that could last into Monday morning. It's been snowing since we got here, but it's just those big, fluffy flakes and it isn't anything serious. Heavier snow is expected Saturday into Sunday night, and perhaps spilling into Monday morning. They're talking about up to a foot with that part of the system, so let's hope things don't get dicey.
Anyway, a late evening practice and a good night's sleep later, UMD will do battle with Mercyhurst Saturday afternoon. You can catch the game in the Twin Ports on The Fan 1490, or outside the Twin Ports on KQ Network stations KQ 105.5 or KQ 106.7. You can also listen live online at www.fan1490.com, and our broadcast will also be fed on the B2 Networks feed provided by the University of Vermont. Pregame coverage begins around 2:30 Central time.
It's good to have hockey back, and we hope you can join us for the action this weekend.