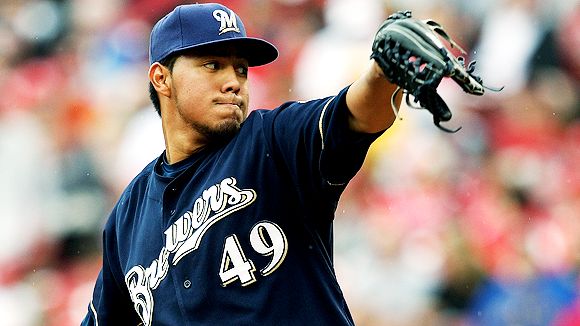 The Milwaukee Brewers had a clear and obvious problem entering the 2009 season. That's going to happen when you lose horselike pitchers from the top of your starting rotation. In the end, the Brewers decided to promote from within to replace CC Sabathia, and they took a flyer on free-agent Braden Looper, hoping he
wouldn't be hurt all the time like Ben Sheets
could suck up the innings Jeff Suppan can't pitch anymore
could give them some quality innings as the fifth starter.
The Brewers also had to build a bullpen basically from scratch, and they had to survive the first couple weeks without closer Trevor Hoffman, who had a pulled muscle.
Meanwhile, the Minnesota Twins stood pat this past offseason, hoping their young starters would continue to improve, pitch enough innings to make up for a thin bullpen, and that the offense would blossom into one of the best in the American League.
Little did they know that they'd have to survive until May 1 without All-Star catcher and franchise face Joe Mauer, who had back problems that were slow to go away.
All in all, both teams have done quite nicely. Milwaukee is 13-12, having endured an early slump and rebounded with a nice 9-4 run as they play in Pittsburgh Monday night. The Brewers are hitting much more consistently, which hopefully foretells a strong offensive season, as opposed to recent years, where the Brewers have been notoriously all-or-nothing at the dish.
J.J. Hardy is at .160/.225/.284, but he's about the only one not performing to expectations (Jason Kendall notwithstanding, and he's so good at calling games that I'll take anything he can offer with the stick). Once Prince Fielder starts hitting (he's still drawing walks like crazy, carrying his OBP over .400), the team will really get going. But I like what I'm seeing. I don't mind guys making outs, but there was never really any value put on those outs under the old regime. They'd bunt for the hell of it, and guys would be up there hacking when they should have been working counts.
Now, they're gassing opposing starting pitchers early in games, and they're getting people on base even when the hits aren't falling.
The pitching has been respectable, outside of Suppan's early meltdown and major depth issues in the bullpen. Hoffman stabilizes the back end of the pen, and it allows guys like Carlos Villanueva, Todd Coffey, and Mitch Stetter to handle lower-leverage roles.
The big keys to this team are the secondary offensive guys (Mike Cameron, Bill Hall, etc.) and pitchers like Suppan and Manny Parra. You know Fielder and Ryan Braun can swing it, but that won't matter if no one else is. Suppan and Parra have developed an annoying tendency to nibble around the strike zone, hoping to catch guys looking at borderline pitches. When it works, it's a wonderful thing, as you can sometimes force hitters to be overaggressive and stretch the zone a bit.
When it doesn't work, you walk in four runs in one inning (hi, Soup!).
The Twins are in a similar spot with regard to their record after one month. Minnesota sits at 12-13, but just two games out of first place in what's been an average division so far.
What's been surprising about this Twins team is the spotty nature of their starting pitchers. I expected more out of the group, and I think we're going to see it before too long. Scott Baker, Francisco Liriano, and Kevin Slowey are all carrying ERAs over 5.00, and the team WHIP is an unacceptable 1.43. The good news is that the bullpen hasn't been nearly as terrible as I expected, plus they get Jesse Crain back.
Plus, Mauer's return should solidify the middle of the order. As long as Alexi Casilla and Carlos Gomez fail to hit, this is a necessity. The Twins just can't handle a full season of Gomez OPSing .549 and Casilla .432 (yikes!). With few reinforcements available in Triple-A, they have to ride out the poor hitting as long as they can stand it.
Joe Crede (.225/.304/.408) has been a disappointment, but the Twins didn't sell the farm to sign him, and he's bound to improve. That said, the improvement may not happen right away, as Crede is notoriously terrible in May, for some strange reason.
Hey, at least his back has held up.
Reality suggests that neither team is much better than their records show at this point. They're both full of major holes, and while both teams are capably managed, it's hard to imagine Ken Macha (Brewers) and Ron Gardenhire (Twins) spinning enough magic to turn their capable-but-flawed clubs into 95-game winners or big-time October contenders.
They'd both do well to stay in division and/or Wild Card races well into September. The Brewers have more great young minor-league talent to look forward to, and the Twins have a new ballpark to get ready for. Both teams should continue to be just good enough to make fans think they can be better than they are.