Welcome to The Ciskie Blog's 2008 College Football Preview. As usual, you can expect a rundown of every Division I-A (or "Football Bowl Subdivision", if you prefer) conference, as well as a brief look at the independents. Some of the information used to compile these previews came from various football preview publications that I took the time to review this summer. I give a full endorsement to Phil Steele's College Football Preview (the national edition, as well as his various regional magazines). I also have looked at Sporting News, Athlon Sports, and Blue Ribbon (via ESPN Insider). Information was also gathered from local newspapers and school websites. Please use the comments section or e-mail for feedback, questions, and any corrections you feel need to be noted.
NORTHWESTERN WILDCATS
Last year:
6-6 overall, 3-5 Big Ten (T-7th)
Postseason:
Almost doesn't count in football
In good shape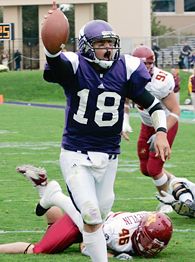 Passing offense. C.J. Bacher doesn't get much recognition, but he improved in a lot of areas last year. He got his completion percentage to 61, which is ever-so-important in the spread offense. Bacher averaged over 300 yards per game and simply needs to do a better job taking care of the ball. A 19-19 touchdown-interception ratio will not cut it again this year. Bacher leads an experienced group that boasts three senior receivers, Eric Peterman, Ross Lane, and Rasheed Ward. Expect to see Bacher take better care of the ball this year for a variety of reasons. For starters, he's more experienced, and he has another year to work with this group of receivers. It will also help him if Tyrell Sutton can stay healthy and run like he did in his freshman year. The running game was absent for much of the 2007 season thanks to Sutton's injuries. Northwestern didn't average even four yards per rush in any of their last four games, putting a lot of pressure on Bacher to do it all himself.
Needs work
Pass defense. You'd think working against Bacher and friends every day in practice would help them. It apparently doesn't. The Wildcats didn't generate any pass rush, as one-third of their sacks (six) came in a loss to Iowa. Take out that game, and Northwestern had all of six sacks in seven league games. Because of that, the secondary was torched often, allowing nearly 250 yards per game through the air, along with a staggering completion percentage of nearly 63. To turn that around, guys like ends Corey Wootton and Kevin Mims have to get up the field, and a retooled secondary, led by FS Brad Phillips, has to do a better job in coverage. Head coach Pat Fitzgerald saw the issues on defense, and he hired Mike Hankwitz as the new coordinator. Hankwitz struggled with a talented unit at Wisconsin last year, but he is a capable coach who is going to be out for redemption.
Final thoughts
Fitzgerald has done a good job keeping the ship above water in the two years since the sudden passing of Randy Walker. This is his payoff. Northwestern has the quarterback, the skill-position talent around him, the experience, and the motivation on defense to improve. Yes, they have to play Ohio State, but the Wildcats avoid Wisconsin and Penn State on the Big Ten slate. The toughest non-conference game is at Duke.
In all seriousness, there's no reason for Northwestern to miss the postseason this year. The schedule and the team are in good position to win seven or maybe even eight games if all goes well.