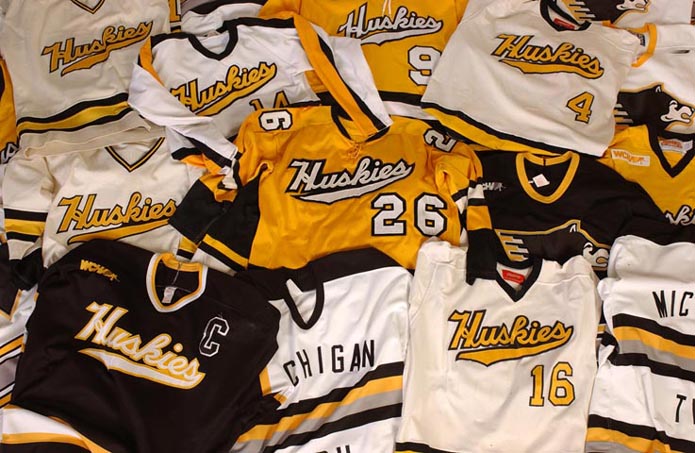 HOUGHTON, Mich. -- There are pluses to a trip like this.
Houghton isn't a terrible place at all. There are some really nice people in this town, including many of the folks we'll run into at the rink Friday and Saturday.
But for UMD, this has been a house of horrors.
Under Jamie Russell, Michigan Tech is 49-142-28 against WCHA teams. They are 9-16-5 against UMD.
In Houghton, the Bulldogs have had their share of struggles. Last year, they lost on Friday and had to rally from 2-0 down to win Saturday against a team that won just three games all year that weren't against UMD. In 2008-09, a six-win Tech team stole points in each series at the DECC, getting a Saturday tie each time.
UMD has not swept a two-game series in Houghton since Oct. 15-16, 2004, when they won 5-4 and 6-3. That's a long time ago, especially when you consider that Michigan Tech is UMD's "protected" rival in the WCHA, so they will play four against each other every year while the schedule rotates other teams on and off the "home and away series" list.
There is no real rational explanation for the troubles. Tech was 4-12 at home last year. Their only road win of the season was against UMD. They are 1-5-3 at home this year, with the win coming Oct. 15 against Minnesota State.
That's also the last time the Huskies won a game. They're 0-16-2 since.
Beset by injuries, Russell was left to
recruit a player off campus
recently. They got junior co-captain Brett Olson -- a Superior native -- back, but he's not going to solve it all by himself, no matter how well he plays.
You want to know what the problem is right now? Check these stats out.
UMD's 12 juniors and seniors have combined for 55 goals and 139 points this season, which accounts for 69 percent of UMD's goals and 64 percent of their points.
Michigan Tech has ten juniors and seniors (Eric Kattelus is no longer on the team, so only nine of them are active). They have a total of 17 goals and 45 points among them, accounting for 31 percent of each. The Huskies have 29 goals and 69 points out of their freshmen, which is more than half their goal total and nearly half the points.
That bodes well for Tech's future, because it's obvious Russell has found some young players who can go. But it doesn't help them much now, especially when valuable guys like Milos Gordic are hurt.
For the fifth-ranked team in the country, the mantra is a simple one. Take care of business.
No one wants Tech's program and fans to continue to suffer. On the other hand, UMD can't afford for them to start getting well this weekend. Not only is there a league title on the line, but the February loss here last year is one of four or five that many have pegged as being severely detrimental to UMD's NCAA chances last year.
In the end, you never know for sure what losses will hurt you. But when you play a last-place team, and you have a weekend off after it, there's no reason not to take care of the business in front of you.
In fact, UMD likely can't afford
not
to.
Notes
--> Injured senior forward Kyle Schmidt has played ten games against Michigan Tech in his UMD career. He has no points. Schmidt has six goals in his career against Colorado College, and six points against North Dakota.
--> Schmidt, by the way, is still hoping to make his return against Minnesota Feb. 4-5 at Amsoil Arena. His recovery is on schedule as of this week.
--> With only 12 forwards healthy now that senior Cody Danberg has decided to take a redshirt year, UMD brought two defensemen on the trip as extras: Chad Huttel and Scott Kishel. Kishel and Trent Palm both were listed as wingers on the line chart for the series at Clarkson, but Kishel's forward shifts were extremely limited when Drew Olson got sick after arriving at the rink that night. Palm spent significant practice time last year skating as a forward while taking a medical redshirt year of his own, because it allowed UMD to balance out their forward lines and defensive pairings (they had 14 forwards and nine defensemen on the roster).
--> Since Danberg is redshirting, freshman defenseman Luke McManus is expected to redshirt at this point, Schmidt is injured, and freshman goalie Christian Gaffy not expected to play this season, that means there are no healthy and available UMD players who were left at home this weekend. That's certainly not what was expected to happen when UMD started the season with a healthy 27-man roster.