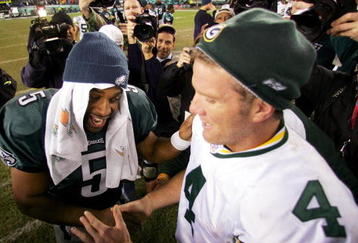 Sunday's trade of quarterback Donovan McNabb from Philadelphia to Washington was a real surprise to many people.
It was surprising that the Eagles were serious about trading McNabb. He's only 33, a franchise icon, and the leader of five Philly teams that made the NFC Championship game. He's really good, in other words, and is likely the best quarterback the team has ever seen.
It was even more of a stunner that they were willing to trade him within the division. The idea that I got out of things that have been said and reported since Sunday's announcement was that McNabb preferred the Redskins to any other team that was looking at making a trade. The Raiders might have, in the end, been willing to offer more for McNabb, but McNabb didn't want to play there.
(Can you blame him?)
So give the Eagles some credit for shopping McNabb to a division team because that's what McNabb wanted. They didn't have to do that, as these aren't like hockey and baseball contracts, where even marginal players like Derek Morris can somehow
procure a no-trade clause
. But the Eagles, a pretty classy organization, did as right by McNabb as they could.
(Reports were that he wanted to go to Minnesota or Arizona, but neither team was interested.)
This leads us to one of those teams. McNabb's
interest in the Vikings
was reported over a week ago.
Frankly, I never took it that seriously, because the Vikings would have to have an answer from Brett Favre before they moved forward with McNabb. They weren't going to take on McNabb when he would potentially be an $11 million backup who had a near-$7 million guaranteed to him in early May.
Sunday night, Twin Cities media personality (sorry, couldn't get a better term to describe him by the censors) Patrick Reusse
tweeted his feeling
on what the McNabb deal meant for Favre's future.
McNabb to 'Skins makes it official: Vikings know Favre's coming back. Just waiting for last offseason session to pass before announcement.
Reusse might be right. It wouldn't surprise anyone if this was true.
However, we have no way of knowing right now. Favre apparently told LaDainian Tomlinson he had "no idea" if he was returning. If this widely-believed conspiracy theory was true, why would Favre do that, when telling the truth could mean the difference between the Vikings adding Tomlinson or missing out?
(They missed out. He signed with the Jets.)
Does McNabb going to Washington mean anything for Favre?
The answer is likely "No," though that won't stop people from trying to draw a connection between the two.
The dots just don't connect naturally.
That said, look for Favre to fly from Mississippi to Minnesota around the same time in August that he did last year, and look for the fan response to be extremely similar.