EAST DIVISION
1. Temple
2. Ohio
3. Bowling Green
4. Buffalo
5. Akron
6. Kent State
7. Miami (Ohio)
WEST DIVISION
1. Central Michigan
2. Western Michigan
3. Toledo
4. Eastern Michigan
5. Northern Illinois
6. Ball State
Fab Four: Top Storylines in MAC
Temple's time.
In 2005, Temple went 0-11 and got rid of head coach Bobby Wallace. The Owls hired Al Golden from Virginia, hoping a young coach who was known for his recruiting acumen could lead Temple to the postseason for the first time since 1979. While Golden has fallen short of those hopes in his three years on the job, he has brought the program to the point that it is a serious bowl contender. After a 4-8 season in 2007, many thought Temple had the goods to go bowling last year. However, senior quarterback Adam DiMichele missed three games, the running game never got going, and an improved defense wasn't good enough to get Temple over .500. Heartbreaking losses to Connecticut, Buffalo, Western Michigan, Navy, and Kent State relegated Temple to another losing campaign. Nine starters -- including senior end Junior Galette (pictured) -- return on a defense that should be among the elite in the MAC. Syracuse transfer Lamar McPherson and sophomore Kee-ayre Griffin need to step up in the backfield in support of junior quarterback Vaughn Charlton. Thanks to that defense, the new faces on offense shouldn't have to do much for the Owls to contend in the East.
LeFevour's swan song.
For a conference that has produced guys like Byron Leftwich and Ben Roethlisberger, there's some high praise coming for Central Michigan senior Dan LeFevour. Already CMU's all-time career passing leader, now LeFevour has a chance to take the Chippewas to a fourth straight bowl game and cement his status as a high NFL draft pick with another strong season. LeFevour has all the physical tools, and the big question will be how little he gets to play against top competition. Of course, similar fears didn't stop Leftwich or Roethlisberger from being top ten picks. The Chippewas have a very tough schedule, but a lot of talent on both sides of the ball. LeFevour has top receivers Antonio Brown, Bryan Anderson, and Kito Poblah available, and the defense returns ten starters. Among the leaders there are middle linebacker Nick Bellore and defensive end Frank Zombo. If the Chippewas can survive road trips to Arizona, Michigan State, and Boston College in non-conference play, they're a serious threat in the MAC.
Time of transition at Ball State.
Brady Hoke came out of nowhere to become a coaching star. Ball State went from 2-9 in 2004 to steady improvement through 2007, then a meteoric rise in 2008. Quarterback Nate Davis and running back MiQuale Lewis led the Cardinals to an amazing 12-2 season, one that was capped by disappointment, both in the MAC title game against Buffalo and the GMAC Bowl against Tulsa. Those two losses, by a combined 87-37, put the brakes on an unbeaten run, and may have signaled the start of a fall. Hoke is gone, having escaped Muncie for the sunnier weather at San Diego State, and coaching veteran Stan Parrish (2-31-1 in his career as a head coach, thanks to a disastrous stint at Kansas State before Bill Snyder revived the program) takes over. Davis is gone, but Lewis remains. However, a defense that was strong against the pass for most of the season is missing nearly their top cornerbacks, and it appears the Cardinals may be starting a redshirt freshman (Kelly Page) in place of Davis. The schedule is easy early on, but Ball State draws Temple, Bowling Green, and Ohio for non-divisional play.
Buffalo tries to follow up on the magic.
Turner Gill joins Golden as the up-and-coming stars of the MAC coaching ranks. Gill was a finalist for the Nebraska job in 2007, then Auburn last year. Last year, the Bulls started 2-4, but won six of their last seven games, including the MAC title game over Ball State, to earn a trip to the International Bowl in Toronto. Included in those were three overtime wins -- Army, then Akron in four OTs, and Bowling Green. Donald Brown and Connecticut waxed Buffalo in the bowl game, but UB has some solid players returning. Replacing quarterback Drew Willy is a huge challenge, but the Bulls should still be able to play defense. Linebacker Justin Winters and safeties Davonte Shannon and Mike Newton lead the defense, which does need to get after the quarterback more effectively. If running back James Starks can become the unquestioned leader of the offense, Buffalo should find itself back in the postseason.
Best of the rest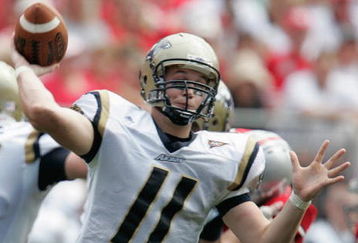 Can Frank Solich lead
Ohio
back to a bowl game? The Bobcats have 14 starters back, including a two-headed monster at quarterback. Expect Theo Scott and Boo Jackson to share time at the position, with Jackson having gained some real experience last season. They need a big year from the ground game to solidify the offense. ...
Bowling Green
replaced Gregg Brandon with former Tennessee assistant and Richmond head man Dave Clawson. If he can keep the offense going with senior quarterback Tyler Sheehan, it should buy him some time to renovate a defense decimated by graduation. ... Quarterback Chris Jacquemain (photo) has established himself as the top guy at
Akron
. Coach J.D. Brookhart now has to find someone to run the ball. Dennis Kennedy departs after a 1,300-yard season, leaving the reins to freshman DeVoe Torrence. The Zips have to plug some leaks on defense, but Jacquemain could lead them to surprise contention in the East. ... For
Kent State
, losing Julian Edelman could be disastrous. Or maybe it won't be. It could be argued that the Golden Flashes relied too much on their quarterback, and didn't get the ball in the hands of diminutive playmaker Eugene Jarvis nearly enough when he was healthy. That should change now that Edelman is gone, and coach Doug Martin hopes to develop a multi-faceted offense. ... Former Notre Dame assistant Mike Haywood takes over at
Miami
after a 2-10 season, the RedHawks' second such finish in three years. To avoid a repeat, Haywood has to find a quarterback and clean house on defense, where Miami was awful a year ago. ... A blowout loss in the Texas Bowl didn't destroy the season for
Western Michigan
, but it was a bad way to end things. The defense that Rice shredded will look completely different this fall, thanks to at least eight new starters. Luckily for the Broncos, quarterback Tim Hiller and running back Brandon West return on the other side of the ball. ... Tom Amstutz is done at
Toledo
after 30 years with the program, and former Oklahoma State defensive coordinator Tim Beckman takes over. There is some talent to work with after a tough 3-9 season, but nothing will matter if the Rockets can get that defense going. Beckman will play a huge role in this. ... Ron English moves from Ann Arbor to nearby Ypsilanti, as he is the new head man at
Eastern Michigan
. Quarterback Andy Schmitt and eight other starters are back on offense, and English -- a defensive coordinator by trade -- gets to try to rebuild a defense that has been simply awful for many years. ... Youth ruled at
Northern Illinois
, as freshman quarterback Chandler Harnish and freshman running back Me'co Brown helped the Huskies go bowling. The defense was stellar, allowing just 18 points per game, but they have to replace seven starters.
Preseason Mid-American Conference Honors and Notables
Offensive Player of the Year:
Dan LeFevour, QB, Central Michigan
Defensive Player of the Year:
Nick Bellore, LB, Central Michigan
Coach of the Year:
Al Golden, Temple
Coach on the Hot Seat:
Doug Martin, Kent State
Best non-conference game:
Colorado at Toledo, September 11
Worst non-conference game:
Alcorn State at Central Michigan, September 19