Yes, we're doing a College Football Preview again. Yes, you know I love Phil Steele's work. Order from his plethora of preview options here. I'm also armed with The Sporting News College Football 2010, and I picked up the Blue Ribbon College Football Yearbook this year, too. I've also done research through local newspapers and school websites to try to get the most up-to-date information on the teams.
Big 12 Conference
North Division
1. Nebraska
2. Missouri
3. Colorado
4. Kansas
5. Iowa State
6. Kansas State
South Division
1. Texas
2. Oklahoma
3. Texas A&M
4. Oklahoma State
5. Texas Tech
6. Baylor
Stories to Watch in the Big 12
Big dogs rebuild.
It's not like this hasn't happened before. Texas had Vince Young, and they had to pick up with Colt McCoy. I'd say that turned out pretty well. Oklahoma has produced guys like Adrian Peterson and Mark Bradley before, and they have moved on, too. But losing McCoy and Sam Bradford won't make things easier for either team. There is a silver lining for Oklahoma, because Bradford missed much of last season. Landry Jones had to take over in a pinch, and the kid played well. Jones was the top freshman quarterback in the country, leading the youngsters in passing yards and touchdowns. He did throw 14 picks in 13 games, and he hit less than 60 percent of his passes -- unacceptable in this offense. But there's no reason to think he won't pick up where he left off and continue progressing. McCoy was a winner, an insanely accurate passer, and a good athlete for Texas. While Garrett Gilbert may not have looked terribly good in the BCS National Championship, taking over for an injured McCoy couldn't have been easy. Gilbert looked more confident in the spring, and there's no question he is the starter entering the fall. There are other losses on each team -- most notably Oklahoma tackle Trent Williams and Texas receiver Jordan Shipley -- but the quarterbacks are the key. If Gilbert can play with more confidence while Jones continues to improve, neither team will miss a beat, and they will keep owning the Big 12 South.
Disciplinary coaching changes.
Two Big 12 coaches were shown the door for disciplinary reasons last year. Mark Mangino left Kansas after allegations surfaced that he was abusive to his players, while Mike Leach was fired at Texas Tech after controversial accusations he mistreated a player who was recovering from a concussion. No matter how you feel about the individual cases, there's no doubt that both schools have made significant moves. Turner Gill -- the former Nebraska star turned Buffalo coach -- takes over at Kansas. He'll find some talent left by Mangino, who stepped up the school's recruiting during his time there. The first things Gill wanted to do involved improving the overall image of the program. Now it's time to step up their play on the field. Losing quarterback Todd Reesing and receivers Kerry Meier and Dezmon Briscoe will hurt, but at least Gill doesn't have to worry about teaching old dogs new tricks. As for Texas Tech, they went with former Auburn coach Tommy Tuberville, and if they wanted a more cerebral but very good and experienced coach, they got one. Tuberville took a year off after 5-7 season at Auburn led to his departure, and he might be a tad uncomfortable trying to let Tech keep their wide-open offense that Leach had nearly perfected. In the end, though, it's a good change for a school looking for a less bombastic personality in the football coach's office.
Can Dan Hawkins save his job?
There is little doubt the Buffaloes are not where they want to be or where they had become accustomed to being. Hawkins has a .326 winning percentage in his four years at CU, and while that might be a sign of progress at some places, it doesn't fly at Colorado. Hawkins hurt his own cause by predicting a ten-win season in 2009 and posting a 3-9 record. A big problem has been the lack of a star quarterback. Hawkins' son, Cody, never found a footing under center, and he lost the job to Tyler Hansen last year. Now the junior Hansen is the established starter, though Hawkins was still pushing in spring practice. The Buffaloes also need more out of running back Rodney Stewart, a shifty back who can make people miss, but who only averaged 4.0 yards per carry last year. There's a lot of pressure on this team, and it will be interesting to see how they respond. A bowl trip will likely save Hawkins' job, but it will be tough with a schedule that includes non-conference dates against California, Hawaii, and Georgia (latter two at home), along with the rivalry game in Denver against Colorado State.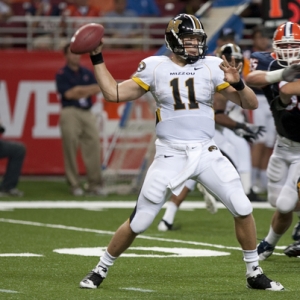 Missouri grows up.
Last year, the Tigers had 34 freshmen and sophomores on their two-deep (depth chart). The lack of experience was telling, as Missouri showed flashes of brilliance mixed with gaps of judgment that don't happen with seniors and juniors. Off an eight-win season, Missouri has high hopes if they can take care of a couple problems. Quarterback Blaine Gabbert returns, but they lost top receiver Danario Alexander. If Gabbert can find quality targets among a group that includes Wes Kemp, Rolandis Woodland, and L'Damian Washington. The Tigers also have to find a way to stop opposing passing offenses. Seniors Carl Gettis and Kevin Rutland get the first crack at starting cornerback jobs, but there is work to be done. Missouri was last in the Big 12 in completion percentage allowed, and they were near the bottom of Division I-A in intercetions. Find a receiver. Stop the other teams' receivers. It sounds so simple. Do that, and Missouri's increased experience will be a huge factor in the Tigers having a great season and perhaps another run at the Big 12 title.
Best of the rest
There is no fear at
Nebraska
, even though dominating defensive tackle Ndamukong Suh has departed. Part of that is the athleticism and balance that exists all along the Blackshirts defense. Oh, and the presence of huge lineman Jared Crick helps. The junior might not dominate like Suh did, but he is on track to be a very, very high draft pick either next spring or in 2012, and he will be a favorite for Big 12 Defensive Player of the Year. ... Year Two at
Iowa State
for Paul Rhoads will produce a better football team, even if they don't win more games. Rhoads was probably lucky to get seven wins out of the Cyclones last year, and it's unlikely that Rhoads will squeeze another bowl season out of this team so quickly. ... Bill Snyder has picked up the pace at
Kansas State
, and I might be silly to pick them this low. He somehow had them in bowl contention for much of last season, and they can probably find a postseason slot if they get their quarterback situation resolved. It's not known if Snyder can mentor an assistant to quietly and seamlessly take his place when he decides to retire for real. That isn't a transition that worked well last time. ... He was the subject of laughter when he was in Green Bay as head coach and GM of the Packers, but Mike Sherman may have found a home at
Texas A&M
. Of course, it helps to have a quarterback like Jerrod Johnson and receivers like Jeff Fuller and Terrence McCoy. It'll be a big key for A&M to have a good league start, because the end of the schedule is a killer, and the first part should be the easiest for them. ...
Oklahoma State
coach Mike Gundy gave up play-calling duties, hiring former Houston coordinator Dana Holgorsen to take over the offense. While the cupboard isn't bare, the Cowboys do lose quarterback Zac Robinson, receiver Dez Bryant, and mammoth tackle Russell Okung. Running back Kendall Hunter takes over as the offensive star, while 26-year-old junior Brandon Weeden appears to be favored to be the new quarterback. ... Athletic quarterback Robert Griffin is back from a torn ACL to run
Baylor's
offense again. The Bears had bowl-game optimism last year, but won just four games and went 1-7 in the Big 12. Coach Art Briles is in no trouble yet, but if Griffin and receiver Kendall Wright can get Baylor over the hump, it would be a huge thing for the program, which hasn't sniffed the postseason since 1995.
Preseason Big 12 Superlatives


Best QB:
Blaine Gabbert, Missouri
Best RB:
Roy Helu, Jr., Nebraska
Best WR:
Ryan Broyles, Oklahoma
Best offense:
Oklahoma
Best defense:
Nebraska
Best coach:
Mack Brown, Texas
Coach in the most trouble:
Dan Hawkins, Colorado
Best non-conference game:
Florida State at Oklahoma, Sept. 11
Worst non-conference game:
North Dakota State at Kansas, Sept. 4