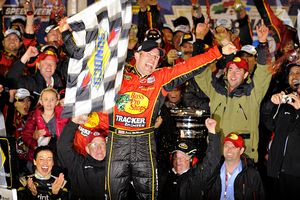 There are two sides to the extremes of emotion.
The first is the jubilation. The raw, seemingly unending happiness that comes with the greatest of accomplishments.
For NASCAR driver Jamie McMurray, the lifelong dream came true Sunday evening at Daytona.
McMurray, a driver who was out of a job for a time last fall, won the Daytona 500 in his first points race for new employer Earnhardt Ganassi Racing. McMurray was a victim of the numbers game at Roush Fenway a year ago. He lost his ride because of a mandated downsizing of the Sprint Cup racing team, combined with numbers that showed him woefully short in the wins department.
With his new ride, the No. 1 Bass Pro Shops Chevrolet, McMurray didn't take long to prove himself.
If these plate races are like entering a random drawing, McMurray was the lucky winner Sunday. You'd be hard-pressed to find someone more grateful for his opportunity.
There is a flip side to this emotion, though. It's the feeling of losing someone you're immeasurably close to. For Brian Burke, this feeling became a reality nearly two weeks ago, when he got word that his son, Brendan, had been killed in a car accident while driving on a snowy road in Indiana. Brendan had been visiting Michigan State University, and was on his way back to his home base of Oxford, Ohio, where he attended Miami University and worked as a student manager on the men's hockey team.
For Brian Burke, a normally gruff and unemotional man in front of the camera, Sunday brought a whole new challenge. While he tried to
put on a strong face
for his U.S. Olympic men's hockey team -- he is the general manager of the team -- it's clear Burke is still hurting.
The hurt is evidenced by a great column from FanHouse colleague Lisa Olson, who
spoke to Burke after his press conference
in Vancouver.
"Born on December 8, 1988, eight pounds, eight ounces. Eight is a lucky number for people of Chinese descent," Burke said, his face aglow. "They kept rubbing his head, the nurses did. I said to one of the nurses, 'What's the deal?' and she said, 'Oh, he's a very lucky baby.' I said, 'Well, rub his foot because he's going to be bald for Christ's sake.'



"He was born with a lot of lucky signs around him," Burke said. "Just a magnetic personality even as a kid."

At Brendan's wake in Canton, Massachusetts, amongst the hundreds of mourners, Burke ran into one of his son's teachers. Everyone had their favorite story about Brendan; he had impacted so many people in so many different ways, and it warmed Burke's heart to hear them all. This teacher told him about an eighth grade dance, and a girl standing alone in the corner. Brendan walked over and asked her to dance, oblivious to (or maybe in spite of) his classmates' snickers.

"He didn't care what they thought, he just didn't want her to have a bad night," Burke said, beaming like a father boasting about a son who had won several Stanley Cups.
People wonder why we love our sports so much. A big part of sports should serve as an escape. Even those who can't escape reality sometimes need a temporary release. For Brian Burke, here's hoping the next two weeks are an opportunity for him to enjoy the fruits of his labor. He worked hard to build this U.S. team, and they have a chance to reward him with a medal.
If that happens, it will surely be another in a long line of emotional days for a man once viewed as being without emotions.
Shows what you get for judging a book by its cover.